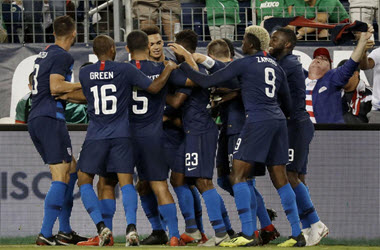 The United States and Mexico squared off on Tuesday in an international match in what saw the U.S coming away with their first victory against the rival Mexicans in three years after Tyler Adams scoring for the United States.
The United States National Soccer team is keen on getting its younger players on the field and testing their skills as they begin preparations towards rebuilding their team for the 2022 World Cup. A couple of those include goalkeeper Zack Steffen, Antonee Robinson and Tyler Adams. The three are giving hopes of what might come once 2022 arrives.
After the game, Adams said, when speaking about the team, that,
"We wanted to show our character and pride for the country, and we went out there and battled at times. Maybe at the beginning the soccer wasn't there completely, it got a little chippy at times, but we handled ourselves well."
Adams, who is 19, was selected for the national team in November of last year. He scored after Antonee Robinson sprinted down the field picking up a pass from Kellyn Acosta who then sent the ball to Adams who fired it past Mexican goalkeeper Hugo Gonzalez.
U.S. coach, Dave Sarachan commenting on Adams and his contribution to the team said,
"He's a winner this kid, and I think I've been really pleased in terms of his growth with the ball in tight spots. We know that he can run and cover ground and win tackles and compete. But at the next level now can you do the next part? And that's have a presence with the ball and picking your spots so it just keeps getting better."
U.S. Soccer
The United States has now built up three wins, three draws and two losses under Coach Dave Sarachan. After Bruce Arena failed to see the Americans under his direction qualify, Sarachan was brought in to replace him temporarily; however, GM Earnie Stewart is expected to make an announcement later this year on who will be his permanent replacement.
When faced against the Mexican National Soccer team, the U.S lost two and tied one. This includes a loss at home and a draw while playing qualifying World Cup matches. For Sarachan, he was pleased with the team's composure saying,
"This was a group that wasn't going to lose tonight, and I couldn't be more proud."
After a strong opening performance at the World Cup, Mexico has lost four games in a row, a first since 2001. Those losses included Brazil, Sweden, Uruguay and the U.S. Yesterday's game saw the first half giving neither team many scoring chances and the second half saw things getting somewhat heated.
Mexico's Edson Alvarez was handed a yellow card after he bumped into Matt Miazga, who was being defended by Diego Lainez, Alvarez took exception to Miazga mocking Lainez, but with frustration setting in for Mexico, it was an unwarranted choice.
As the international stage continues to rebuild in hopes of the next World Cup, punters are advised to keep a close watch on their progress as it will provide information to be better positioned when placing bets on future games. Of course, betting.ca is right there with you and with a solid selection of world-class Canadian soccer betting sites ready to award you with generous sign-up offers and action. Why not visit our soccer betting page today and register with one of our recommended sportsbooks and be ready when the action hits the field.