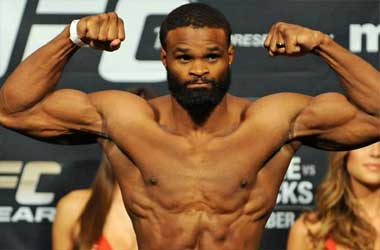 UFC Welterweight champion Tyron Woodley is still chasing a big money fight and once again trying to lure Canada's George St-Pierre to agree to a title bout. George St-Pierre, once of the most decorated fighters in MMA recently agreed to come out of retirement and was expected to face Michael Bisping, the UFC Middleweight champion.
St-Pierre fights at 170 lbs the same weight-class as Tyron Woodley but agreed to move up a weight class and go to 185 in order to fight Bisping. This hasn't gone down well with Woodley who believes that St-Pierre is scared of getting into the Octagon with him.
Woodley also knows that a match with St-Pierre is likely to bring in a lot more pay per views and as a result net him a lot of money.
Latest UFC Fight News
Woodley has chased big money fights before calling out Nick Diaz but failed as Nick did not believe Woodley was a big enough money fight for him. Woodley is expected to defend his belt against Brazil's Damian Maia who recently won a decision victory over Jorge Masvidal. Woodley knows a fight with Maia will not sell as well as a fight with St-Pierre and it appears that Woodley is once again trying his best to get St-Pierre engaged in a verbal war.
In a statement, Tyron Woodley lashed out at St-Pierre saying
He should've come back (to welterweight). Fighting Bisping, I think that was the cowardly move. He's going to fight someone who doesn't have the ability to concuss him like I would, or Johnny Hendricks would, or Robbie Lawler would. That's why he went (up in weight)
UFC President Dana White recently said that the fight between Michael Bisping and George St-Pierre was off because St-Pierre could only be ready to fight in October and that was too long a period to keep the middleweight title on hold. White wanted Bisping to fight the division's number one contender Yoel Romero but it appears that Bisping isn't very anxious to let his big money fight with St-Pierre slip away.
Bisping has claimed that his recent knee surgery is taking its toll and that he will not be ready anytime soon to step into the cage. He stated that he was willing to wait till October to fight St-Pierre. However it appears that Dana White is no longer keen on the Bisping- St-Pierre fight and has promised that when St-Pierre returns in October, he will fight whoever the current UFC welterweight champion is at that time.