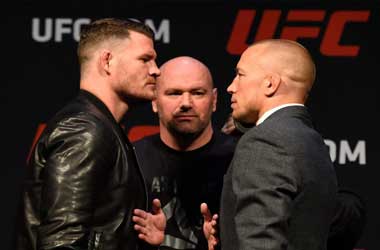 Canada's George St-Pierre is arguably one of the best MMA fighters to have ever graced the Octagon.
St-Pierre retired from the spot when he was champion and surprised a lot of people in 2016 when he announced that he wanted to make a comeback.
After a lot of back and forth, St-Pierre and the UFC managed to work out their contractual differences and a title match against UK's Michael Bisping was on the cards much to the surprise of UFC fans as St-Pierre was walking right back into the Octagon and getting a title fight after a three year lay-off.
St-Pierre who is used to fighting at 170 lbs would have to fight Bisping at 185 lbs and wasn't very keen on fighting at international fight week which takes place in July. Bisping on the other hand wanted to fight quickly and initially threatened to pull out of the fight if St-Pierre kept demanding more time to be ready.
NESN
The UFC wanted to make the fight as it promised a big pay per view card as St-Pierre and Bisping are big names in the fight game. Dana White, UFC President decided to push the number one contender Yoel Romero aside in order to give St-Pierre a crack at Bisping.
However earlier this week, St-Pierre's camp announced that George St-Pierre would need time till October to prepare himself to take on Bisping.
The announcement did not go down well with the UFC and Dana White informed the media that the UFC wasn't willing to wait till October as it would mean keeping the 185 division on hold. As a result, the fight between St-Pierre and Bisping now stands cancelled and it is highly likely that Bisping will now have to defend his title against Yoel Romero.
In a statement, the 36 year old St-Pierre expressed his disappointment with the decision and said
It's sad for me because I wanted to fight Michael Bisping. He wanted to fight me. I understand their (UFC's) point but they knew when they did the press conference with me and Bisping I couldn't fight before the end of summer. They knew that. Still, they insist. Unfortunately, I have no words right now. I'm just sad.
The UFC can still make a lot of good fights for St-Pierre once he is ready to go. Fight fans have always wanted to see St-Pierre take on Anderson Silva and should the UFC make that fight, it could turn out to be one of the biggest pay per views for the company.