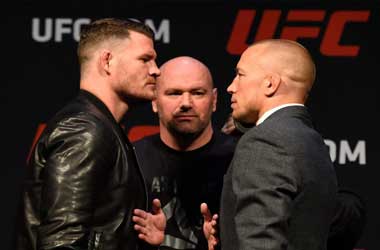 The Ultimate Fighting Championship will be promoting UFC217 in Toronto, Canada on Friday, October 13. UFC217 will take place on November 4, 2017 at Madison Square Garden in New York and will be headlined by Canada's George St. Pierre (GSP) who will challenge UFC Middleweight champion Michael Bisping for the belt.
The UFC will be holding a press conference at Toronto's Hockey Hall of Fame on Friday which will start at 10 am ET. The event is opened to the public and UFC President Dana White is expected to be on stage along with Bisping and GSP and the presser will be live-streamed on YouTube.
GSP has been Canada's biggest Mixed Martial Arts (MMA) star for over a decade and will go down into the UFC hall of fame one day.
GSP is making his return to the Octagon after a four and a half year absence and is also moving up from welterweight to middleweight to challenge Bisping for the belt. While both fighters respect each other, there has been a lot of banter during the lead up to UFC217.
MMAFightingonSBN
The last press conference which featured Bisping and GSP took place on October 6 and Bisping was on fire insulting GSP repeatedly by making fun of his French accent and also pointing that GSP was wearing the same suit as he did in the last press conference. Bisping also made fun of GSP's coaching team which included the legendary Freddy Roach who is helping GSP with his striking.
GSP has accused Bisping of being inebriated during the press conferences but in the end it is fair to say that GSP has lost the verbal battle in the press conferences. That's not surprising given the fact that English is not GSP's first language but it is so for Bisping who is from Britain. During the last press conferences, things did get a little heated between the two when they faced-off as Bisping touched and pulled GSP's suit twice which annoyed the Canadian and resulted in him pushing Bisping on stage.
Bisping has a knack of getting under his opponents skin as well as into their head. However GSP is far too experienced to fall for those tactics and will be more interested in making his statement and presence felt in the Octagon. GSP has made it clear to his fans that if he loses against Bisping, he will call time on his career.