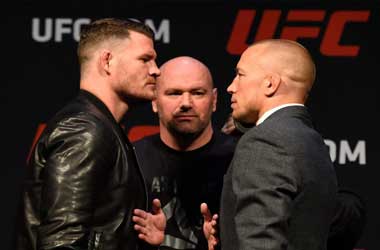 UFC middleweight champion Michael Bisping has confirmed that he will fight the former UFC welterweight champion and future hall of famer George St. Pierre at UFC 217 which takes place on November 4 at Madison Square Garden.
There has been a lot of hype and controversy surrounding the return of Canada's George St. Pierre who retired from fighting and then suddenly decided to make a comeback.
He was first scheduled to fight Bisping and the UFC launched a promotional tour but then dropped the fight after St. Pierre said he had to deal with an eye injury and could only fight towards the end of the year.
UFC President Dana White then asked Michael Bisping to fight interim middleweight champion Aussie Robert Whittaker for the title and said St.Pierre will have a crack at UFC welterweight champion Tyron Woodley. All that changed after UFC 214 and Dana White announced that Bisping will fight St. Pierre for the title but did not confirm the date.
UFC ON FOX
The Count confirmed that the bout will take place at Madison Square Garden and also said that he will most likely fight two more times in the Octagon before retiring. Robert Whittaker who is currently recovering from a knee injury said he understood why Bisping was facing St. Pierre as it was a 'money fight' and he wasn't bothered about it as the UFC is a roller-coaster.
Someone who is bothered by the money-fight is former UFC champion Luke Rockhold, whom Bisping defeated to win the belt. Rockhold wants the UFC to strip the title off Bisping just like they did to Germaine de Randamie for not fighting Cris Cyborg. Bisping has not defended against a number one contender till date.
There are a number of top fighters who want to fight at UFC 217 as they would love to have the experience of walking out at MSG. Some of the possible title fights that could appear on the MSG card include UFC bantamweight champion Cody Garbrandt against number one contender TJ Dillashaw and UFC featherweight champion Max Holloway against Frankie Edgar.
There is no confirmation from the UFC as to who will headline the event. There is a possibility that UFC lightweight champion Jon Jones could make an appearance in the Octagon if he decides to defend the belt. As of now, it appears that Jones has his sights on the return of Brock Lesnar and that would mean he would have to wait another 6 months for Lesnar to clear USADA.