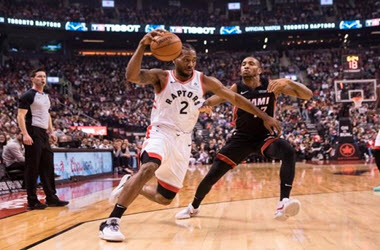 The Toronto Raptors have the right stuff, and it didn't take long for the Miami to feel the heat last night at the Scotiabank Arena, and it was Kawhi Leonard who created buzz after the final whistle was blown and Miami and Toronto headed to their locker rooms.
Kawhi Leonard performed as expected with a dominating performance, but that was not what created the buzz, nor was it the 29 points he scored last night, nor was it the 125-115 victory over Miami.
The Toronto Raptors earned their fifth back-to-back win last night against the Miami Heat and are sitting atop the standings. What caused the locker room buzz was the Leonard earning a technical foul, his first career technical foul during the regular season, and it was one Leonard was not pleased receiving.
Leonard was not pleased with having his arm pulled by Miami's Justise Winslow as he was driving to the hoop. After speaking to the official, Leonard was given the foul but refused to discuss what he spoke to the official about. He adding it was deserved stating,
"It was just kind of getting out of hand with some of the calls out there. They are doing the best job they can, but some of the calls tonight, I mean I thought I got fouled pretty hard."
Also scoring big for the Raptors Sunday was Pascal Siakam with 21 points, Jonas Valanciunas with 17 points and 10 rebounds. Kyle Lowry has 12 points and 10 assists, and C.J. Miles, Delon Wright and Fred VanVleet each scored10 points.
MLG Highlights
Miami Heat's Dwayne Wade, who announced his intention to retire after this season, scored 35 points. A fan favourite, he has 13.1 average for the season and was warmly welcomed when he took to the court. After the final whistle, the future hall of famer and Kyle Lowry exchanged jerseys.
The gesture did not go unnoticed by Lowry, who stated,
"He's a future hall of famer. It will go up in my house, and I'll have an opportunity to have a couple of stories I can tell to my kids a long time from now. So, it was honour for me to still be able to play against him for one last season for him."
The Toronto Raptors and Miami Heat last season saw every game decided by three or less points, and last night looked like the Toronto was heading for a huge blowout leading at the midway point by 26 points before Miami responded. Raptors coach Nick Nurse, speaking about the excitement that prevailed, stated,
"I think it was awesome and I think it brought a little excitement to the game, the way we got it up the floor tonight."
Miami was able to reduce that deficit to 12 by the beginning of the fourth quarter and to within eight after Dwayne Wade scored two three pointers back-to-back with 9 minutes left to go. However, Toronto managed to take control after Miami took earned a foul and Lowry bagged a three pointer to make it all but game over.
"That's the hard part about trying to come back on the road; you have to play a perfect game," Wade said. "We got down early by too many points to try to come back against the No. 1 team in the Eastern Conference."
The Raptors next land in Memphis on Tuesday to take on the Memphis Grizzlies before returning to Toronto to welcome the Warriors on Thursday. Interested in basketball betting? Why not take a look at one of our top-rated NBA betting sites such as Bodog, with a welcome bonus worth up to $200, the opportunities are endless. Register today and reap the rewards.