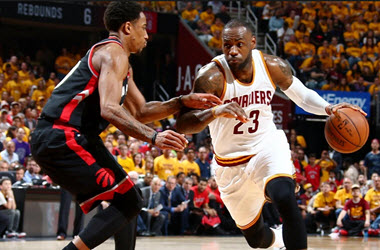 The Toronto Raptors may have been without Kyle Lowry, but it had little impact as they took on the Cleveland Cavaliers on Saturday night.
The Cav's are one of the worst teams in the NBA this season, and with the Raptors on a hot streak, Cleveland did not prove to be much of a challenge as Toronto went on to win 106-95 and increase their winning streak to eight back-to-back games.
Stepping up to the plate for Toronto, Kawhi Leonard scored 34 points, and Pascal Siakam, Danny Green and Fred VanVleet each scored 15 points to help the Raptors with their eighth win in a row. While missing Lowry, the Raptors now have the NBA's best record with 20 wins and 4 losses and reached that milestone faster than any other franchise in NBA history. They also improved their franchise record to 10-2 on the road.
This was the first game missed by Lowry, who is out with an injury to his back that was unspecified. The Raptors coach, Nick Nurse, refused to discuss details surrounding the injury other than the unspecified came up earlier in the day.
MLG Highlights
It wasn't until the game was to begin that Leonard found out Lowry would be sitting out., who is at the top of the league in scoring. Commenting, Leonard said,
"I told him he should have let me know earlier because I would have slept 20 more minutes. I needed that energy tonight."
Taking the place of Lowry was Fred VanVleet, who organized the team defensively and ran the offense. VanVleet made the games biggest move with a three pointer that put the Raptors up by 10. Joking about the play, VanVleet said,
"I didn't miss him at all. Any time I can get extra minutes, and extra shots up, I'm happy."
Cleveland's top scorer of the night was Jordan Clarkson with 18 points and was joined by Tristan Thompson who equalled Clarkson with 18 points and19 rebounds. Cleveland has been struggling this year experiencing its worst loss of the season Friday against Boston. They have faced multiple injuries with George Hill missing eleven games, and while he returned last night, it was clear he is not fully recovered having only scored 8 points.
This was the first visit for the Toronto Raptors at the Quicken Loans Arena since they lost in the playoffs to Cleveland last year. However, their last visit didn't include Kawhi Leonard, who was acquired by Toronto in a trade for DeMar DeRozan with the San Antonio Spurs.
The change has been a welcome addition for Toronto, who while DeRozan was a fan favourite and missed, the change has been evident from the first game played. Commenting on that, George Hill said,
"It's not just Kawhi that makes them different. You get another amazing defender in Danny Green, a laser 3-point shooter in him and they got experience now. Losing a guy like DeMar is tough, but at the same time, you replace him with a guy of the same calibre like Kawhi, but also adding a guy like Danny, who is playoff-tested, championship proven, that just makes them an overall better team."
The Raptors, who many sportsbooks such as bet365 and showing excellent odds for, next play the Philadelphia 76's on Wednesday. Why not consider registering with bet365 and taking advantage of their generous signup bonus worth up to $200. For regular punters, that is just the beginning as regular weekly promotions are a constant when you play with bet365.