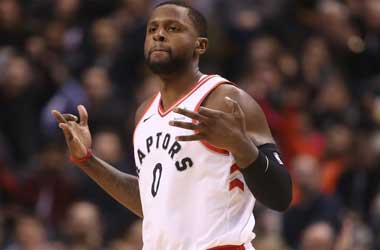 The Toronto Raptors took on the Detroit Pistons at the Air Canada Center Wednesday night and came away with a 96-91 win.
While the Raptors has twenty-one turnovers, Dwane Casey was focused on getting the job done, even if not focusing on style.
Toronto was able to pull away from the Pistons, and it was C.J Miles who was instrumental in helping give the Raptors the advantage.
Commenting, C.J Miles said,
"It was the ugly way, that team is a very aggressive team. They were doing something a little bit different defensively that kind of threw our rhythm off a little bit with their traps. Hats off to them because they really got after us and then we made things hard on ourselves.
Casey believes Toronto had a solid performance in the first quarter making sure to keep the ball moving around Detroit before traps could be established. This led to Toronto having a 13 point advantage going into the second quarter.
Raptors HQ
Commenting on the first quarter, Dwane Casey said,
I thought that stretch where we built a big lead we did do that, we did move the ball. The ball was humming, zipping, we were passing before the traps got there. And then as the game went on we allowed the traps to get to us before we got rid of it. We made it complicated on ourselves but again we've got to give Detroit credit.
Kyle Lowry, point guard for the Raptors, scored eighteen points, and Jonas Valanciunas and DeMar DeRozan each had seventeen points. Detroit was outscored by Toronto in the last quarter and scored its first win in the last three games and chalked up its third consecutive win against the Detroit Pistons.
Detroit's Andre Drummonds raked up twenty-five points for the team, who has been struggling with four of its last five games ending in a loss.
Coach Stan Van Gundy commented stating,
I'd say in the last three quarters we fought hard but the first quarter counts. There's just not very many times where we play a good defensive first quarter. It's disappointing, you're working out of this hole and then late in the game you have a chance, and we're not up on two pick and rolls late, and Lowry and Miles hit back-to-back threes . . . when it was winning time, we didn't do our job.
It was Toronto' Lowry and Miles who were instrumental in connecting three-pointers to see the Raptors with 4.47 minutes left to play a 90-83 lead.Two free throws by Valanciunas's saw that lead increased to 92-83 before Detroit's Avery Bradley scored a three-pointer to bring Detroit within 6 points. With less than two minutes left in regulation play, DeRozan put the ball in the net and made it 94-88.
Detroit for their part continued to push and managed to reduce the lead to 94-91 thanks to another three-pointer by Avery Bradley, however with only 6 seconds left, Delon Wright was awarded two free throws, and that cemented the win for the Raptors.