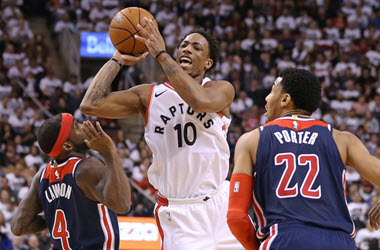 The Toronto Raptors DeMar DeRozan hit the court last night in what was one of his best performances in the post-season so far helping to give the Raptors a 2-0 lead in the series against the Washington Wizards.
DeRozan may have been the star of the night, but without Lowry, he may not have got there. DeMar DeRozan scored 37 points in Game 2 matching his all-time high in a playoff game, and for the first time in Raptors history, took a 2-0 series lead.
Commenting on DeRozan's performance last night, Kyle Lowry said
"DeMar is an unbelievable player, all-NBA, MVP-type calibre player. Every year I've been with him he's just continued to get better. He's my friend, I don't care. He still sucks as a friend, but as a basketball player he's really good, just getting better every single year. If I'm not shooting the ball well, he held it down for our team."
After the game, the two sat together in what saw Lowry poking fun at DeMar while he commenting on his plan of attack,
"I just let the game come to me, flow of the game. I go based off that, these days, it's not like I have to have the mindset of scoring 30 or 40 points. I go out there and play aggressive."
Joking with DeMar, Lowry was quick to say that to DeMar that he had 37 points. This elicited a good nature response from DeRozan with the star player saying,
After the game, the two sat together in what saw Lowry poking fun at DeMar while he commenting on,
"Listen to me. Like I said, I didn't go out there planning to score 37 points. I went out there to be aggressive. And with my aggressiveness came those 37 points."
Raptor C.J Miles scored 18 points, and teammate Jonas Valanciunas added 19 to the night. Delon Wright and Kyle Lowry both scored 18 and 19 points respectively while 10 were added by Serge IBaka. As for the Washington Wizards, there top scorer of the night was John Wall who earned 29 points and next in scoring was Mike Scott with 20.
Toronto Raptors
Toronto had 50 wins in the regular season this year, a franchise record that saw the Raptors winning the Eastern Conference. Their regular season losses at the A.C.C is only seven however in previous years have struggled in the playoffs and expectations were that the Wizards would be fierce competitors.
However, Washington has hardly been a match for the talented Raptors with last night seeing Toronto ahead by 22 points during the first quarter and set another franchise records in scoring during the quarter and halfway point of last night's game.
Coach Casey, who celebrated his 61st birthday on Tuesday said,
"Well, I liked the way the starters responded. Our second unit has gotta come in with a sense of urgency and some toughness that they've shown all year. They had some good moments but not enough. Not enough. Not enough.
Casey added,
"I liked the way the starters came in. I liked the way Serge battled down the stretch. Kyle and DeMar did an excellent job. But we've gotta get some more guys to join the party."
While the Raptors had some shooting issues later in the game, the rest of the action saw Toronto in prime fashion with DeRozan and Lowry both enjoying themselves on the court. Washington seems unfazed by the first two games of the series with John Wall when asked if he feels the Wizards are in trouble, saying,
"Naw, I wouldn't say we're in trouble. We have to definitely make adjustments, they're a team that's going to be hungry coming into Game 3 trying to take full advantage of that. We're down 2-0, we're the team that's in the hole, we're the team that's desperate, but we have a lot of confidence. We're not down on ourselves at all."
Game 1 saw Toronto winning 114-106, which was a first since 2001 that the Raptors have taken game 1 of a series. Washington will play host for Games 3 and 4, and if needed, the teams will head to the Air Canada Center for games 5 and 6. At this stage, Toronto is in a good position to wrap the series up in five and sports betting bookmakers are favouring the Raptors to advance.