Toronto FC Captain Takes Voluntarily Paycut To Strengthen Squad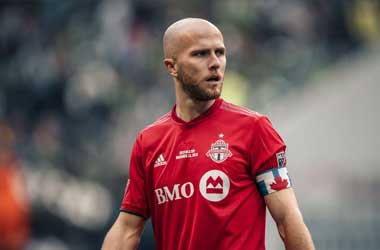 Summary
MLS Players Association publishes salary list for 2023
Toronto FC captain voluntarily takes more than 50 percent salary reduction
Fans have lots of questions over Toronto FC's salary payouts
Sports fans all over the world, irrespective of the sport are very keen to know what their favorite players are making per year.
Most of the numbers thrown around for NFL, NHL and MMA athletes are based on speculation. Major League Soccer (MLS) fans do not have to rely on speculation as the MLS Players Association has released a list of player salaries for 2023.
Salary Data Raises Questions On Toronto FC Payouts
MLS Players Association data showed that the highest paid player in the league was no longer Lorenzo Insigne. The Italian star was the highest earning player in the MLS during the last season but this year he has dropped to second place with $7.5 million. At the top of the list is the 31 year old Swedish star Xherdan Shaqiri who is making $8.15 million.
Toronto FC salary data caused fans to raise a few questions on social media. There were 8 players from Toronto that are making less than $100,000 each season while Insigne who was paid $14 million by Toronto last season is now getting $7.5 million.
Toronto FC captain Michael Bradley who collected a paycheck of $1.5 million last season is reported to have volunteered to take a big salary cut and is now only getting $614,826 this MLS season, which did not get off to the best of starts.
Captain Takes More Than 50 Percent Reduction In Pay
Bradley made $39 million playing with Toronto under a 6 year contract that ended in 2019. He later signed a 3 year contract making $1.5 million per year but told Toronto FC management that he would take more than a 50 percent pay reduction to enable the club to have more financial resources to strengthen their squad.
The management were more than happy to accept Bradley's sacrifice as the lower pay enabled them to go after multiple free agents that resulted in the signing of three defenders in Raoul Petretta, Matt Hedges, Sigurd Rosted and goalie Sean Johnson.
Toronto FC assistant GM Jason Hernandez, who once played alongside Bradley was full praise for the Toronto captain and his sacrificial attitude. Hernandez said the club would not have been able to sign so many free agents if Bradley did not make that financial sacrifice.
Will Bradley's sacrifice be worth it come the end of the MLS season or will it have been for nothing – checkout the latest odds on Toronto FC winning the MLS this season here.