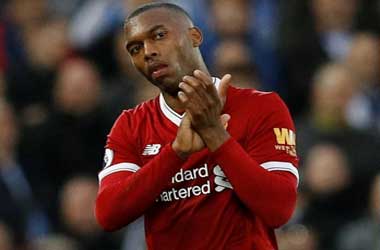 Daniel Sturridge is at a crossroads in his career. The Liverpool striker, at 28, most certainly has the skills needed to play and score in the Premier League. Yet, his chances of that are not looking good thanks to Sturridge not being Jurgen Klopp's preferred striker. Klopp seems to prefer Roberto Firmino as he suits his style more than Sturridge and there lies his problem and why he must move on.
Sturridge is frustrated by lack of play
Clearly, Daniel Sturridge is not pleased being on the sidelines and is hoping to be transferred next month. If successful in getting transferred, Sturridge needs to find a permanent home or at least be loaned to a club that will see him get on the field and show his value as a striker. Currently there is a year and a half remaining in his Liverpool contract and from all accounts the club doesn't seem willing to loan Sturridge, and with that the hope for a transfer is Sturridge's best option.
The striker is, even though injured several times in his career, is fast on his feet, fit and solid in front of the net. The sad part for Sturridge is that he is not Jurgen Klopp preferred striker. Klopp started Sturridge in only five matches this year and chose the striker as a substitute four times, and this is a strong reason to justify why he would want to move on from Liverpool and under Klopps control.
With hopes of making the squad for the 2018 World Cup, it will be an uphill battle to earn a position on the 23 man squad unless playing regularly, otherwise he will not be noticed by Gareth Southgate.
Southampton Showing Interest
Based on reports from the Daily Mirror, Southampton has expressed interest to sign Sturridge but Liverpool have refused to look at any offers regarding loaning Sturridge to another team, which contradicts the asking price of £25 million. Charlie Austin, a striker for Southampton is on the injured list for the next 60 days and Pellegrino needs to find someone to help add strength to the squad. The acquisition of a new striker is a priority for Pellegrino as Gabbiadini has failed to meet expectations based on his initial contributions to the club.
Rumors also have Stoke City showing interest in acquiring Sturridge, however the asking price will be a tough one for the club to afford. However Stoke City could get Danny Ings on loan for a lot less, and that could inhibit Sturridge from seeing a move become reality.
Remaining at Liverpool could be damaging to Sturridge's career
Daniel Sturridge time at Liverpool has had a number of mixed fortunes. At times, his performance is world-class, then injuries come and this creates questions relating to his strength mentally. Should Sturridge manage to stay fit and free of injuries, it will allow the striker to score goals regularly and that will increase his worth in the Premier League.
At this point, sitting on the bench as a substitute is wasting away his career and at the age of 28, Sturridge must move on if he wishes to see his career continue. Whether successful in getting moved come January will be seen, either way, he will need to leave Liverpool if he hopes to resuscitate his career in football.
For all the latest news on the Premier League and other sports, be sure to bookmark Betting.ca. We are your source for news for American Football, Baseball, Basketball, Boxing, Cricket, Golf, Hockey, Horse Racing, Motor Racing, MMA, Soccer and Tennis.