Best Horse Race Betting sites Horse Racing Betting in Canada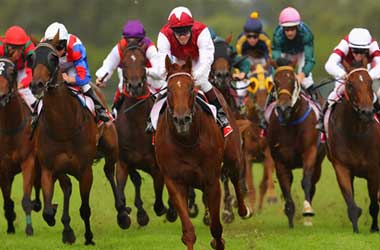 Horse Racing is one of the oldest sports and has a fan following in just about every country in the world. Billions of dollars are spent by the worldwide horse racing industry and the sport has continued to grow with each passing year thanks to the increase in media coverage.
This is an equestrian performance sport that allows both men and women to compete together. Horse racing rules and formats change base on the different types of tournaments held across the world. Some of the different types of horse racing include flat racing, steeplechasing or jump racing, harness racing and endurance racing.
There are horse racing events conducted on a regular basis throughout the world. The most popular horse racing events that have millions of dollars at stake include the Kentucky Derby, The Grand National, Dubai Turf, Breeders Cup Sprint, Breeders Cup Distaff, Breeders Cup Turf, Prix de l'Arc de Triomphe, Melbourne Cup and the Dubai World Cup.
Recommended Canadian Sports Betting Sites For Horse Racing
For access to some of the most generous odds in regards to Horse Racing then you really ought to be considering signing up to only those betting sites listed below, if you bet anywhere else you run the very real risk of losing out on enhanced odds and bets odds guaranteed racers. So have a look through our Horse Racing betting sites listed below which have all been handpicked and will live up to your high expectations.
There will be plenty of additional Horse Racing bonus bets on offer during the racing season, however if any of the above free bets and bonuses takes your fancy then you are best advised to visit the betting site website that is offering that particular bonus to see if the offer is still up for grabs. All of the above bonuses and free bets
Horse Racing in Canada
The Canadian Triple Crown is the most popular horse racing competition in Canada and consists of three thoroughbred rose races that take place every year. This is one of the oldest horse racing tournaments in Canada and has been around since 1959. The first horserace is the Queen's Plate which takes place at the Polytrack in Toronto, the second is the Prince of Wales Stakes that takes place at the Fort Erie Racetrack in Ontario and the third race is the Breeder's Stakes which takes place at the E. P. Taylor Turf Course in Woodbine.
All three races have been televised by TSN since 2014 and 12 horses so far have won the Canadian Triple Crown so far. There is also a Canadian Racing Hall of Fame honouring horses, jockeys and trainers.
As any avid fan of Horse racing will tell you, when it comes to placing wagers on any Horse race there are plenty of options available, not only in regards to the horses you can bet on, but also there are a huge number of different bet types available such as Future Horse Betting and what better way to get your head around them all by having a good look through our Guide to Horse Racing!
Be aware that there are hundreds of different online betting sites as well as plenty of mobile betting sites who all want you to join up to their respective betting sites and they all want you to start placing wagers, and as such you can often find some not to be missed bonus offers and free bets available, but try and stick to betting only at our top rated Horse betting sites for each of those we are going to showcase to you are renowned for giving you the best odds and the biggest bonus offers.
Canadian Betting: Horse Racing
Canadians love to place bets on horse racing events in both domestic as well as international horse racing competitions. There are numerous websites such as Betfair, Bet365, Paddy Power, 888 Sports and William Hill who offer horse racing betting. These websites offer online betting and also a mobile app that allows bettors to place bets on the go. These mobile sports betting apps are compatible with both iOS and Android platforms.
These sports betting websites not only cover the top horse racing tournaments in the world but also offer horse racing coverage for specific countries such as South Africa and the United States. Some of the different types of horse racing bets include any order forecast, tricast, any order tricast, forecast, reverse forecast and outright winner.
Sports betting websites covering the horse racing industry offer detailed information to help bettors with their wagers. These sports betting websites offer tips and information on the performance of the horses, the performance of the jockeys and the favorite horses in the competition. Most sports betting websites also offer virtual betting on horse racing.
Top Horse Racing Betting Events
The beauty of Horse racing is that it is a sport that once you get involved in you are going to enjoy it as every day of the week there are races running all over the world, and studying form whilst putting your skills to the test is just one of the enjoyment factors of this race of Kings!
There are small races run day in day out, however there are also a large number of premier types of Horse races where the best of the best take part, and as such you can bet on races such as the Grand National, the Dubai World Cup, the Derby and a whole host of other races.
Types of Horse Racing Bets
You are not just going to be able to pick the winner of any one single horse race, as you can also bet on placed horses, and as such as long as your selections finish in one of the prize payout positions then you are going to pick up a winning payout.
You are also able to bet on which horses your think are going to finish first and second or even first, second and third and these types of wagers are known as Exacta's and Tricast's and when you get one of these bets placed and your selections all come in, then some fairly large winning payouts will be coming your way.
In fact many of our featured betting sites will also let you try and predict which horse will not only win but by how many lengths it will win the race by, and with plenty of daily specials on offer at our top rated betting sites you are never going to go short on ways to bet on any Horse you fancy in any race running anywhere in the world!
Horse Racing Betting FAQ