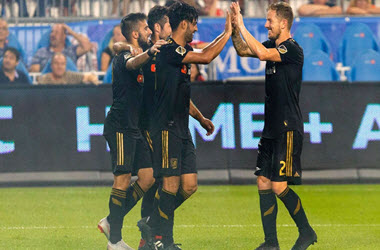 While Toronto has not officially been shut out of the playoffs this season, it is far from looking good, just the opposite. After losing to LAFC, that door closed a little more, and with only seven games remaining in the regular season, Toronto is in trouble.
Toronto is nine points behind the Montreal Impact, who currently are the ones who have the last playoff spot in the Eastern Conference. Considering Toronto FC won the championship last year, this season has been devastating as they have sat near the bottom all season.
The one bright spot of the season was TFC's performance during the CONCACAF Champions League. The near became the first team from MLS to win the Champions League, and they now are fighting to earn a playoff spot. How that happened has many suggesting this, that and the other.
Team captain, Michael Bradley was truthful in his account of the problems when speaking to reporters after Saturday's game saying,
Team Captain, Michael Bradley explained.
"You run out of things to say. For me, it's very simple. We have an incredible year last year, but Champions League aside, this year we have not had enough people in this club from the top to all the way down to the bottom, and everybody is included – we have not had enough people who have understood how hard it was going to be, what it was going to take to navigate through another season where we had to play every week like our lives depended on it."
Bradley continued by saying last year it was the mentality, adding,
"Last year, that's what we were able to do. But when you win everything like we did, then you have to understand to come back and do it again it's going to be even harder. Through 27 games this year, it's not even been close. Not even close."
MLS
As the final few games approach, Bradley stated that there is no more room for error and that with seven games remaining, TFC would need to win six in order to get into the playoffs. Jozy Altidore, a forward with the team, affirmed this by saying,
"Look man, we gotta keep going. That's all we can do. We owe it to ourselves, the fans… We just got to go for it, every game now go for it and put our best foot forward. That's all we can do."
One of Toronto's biggest problems is the errors they are making in the defensive end. Greg Vanney, coach of TFC, said that they need to play complete games and currently they are not. The continuity of how they play is lacking from beginning to end. Vanney added that they are making mistakes professional soccer players should not be making.
The sentiment was shared the Drew Moor, a defender for TFC. Moor commented during a post-game interview that,
"We're just giving up too many goals. It's not even a lack of concentration today – we just had some bad defending. Poor clearances, not getting close to guys, getting beat on the dribble. It's just not good enough,
Losing to Los Angeles FC was personal for Bradley as his father is the coach of the Los Angeles team, and it was clear his father was not interested in taking mercy on his sons' team. LAFC was relentless as they punished Toronto. They took advantage of the fragile defensive end constantly pressing and doing so with superior speed.
Toronto had a number of players returning from injuries list last night including Victor Vazquez. Drew Moor and Gregory van der Wiel also returned to the lineup as did Sebastian Giovinco. Vanney chose to start backup goalie Clint Irwin once again last night, but it did little to help.
The beginning of the game saw TFC setting the pace and controlling the ball, but it didn't take long for LAFC to create havoc to that plan after Diego Rossi scored the first his two goals for L.A's. Also scoring for LA was Carlos Vela and Lee Nguyen. Jozy Altidor scored both of TFC's goals.
TFC next plays LA Galaxy. On the 15th of September. Having almost two weeks off, it is hoped that improvements will be made to the lineup that will put them in a position to compete on a level that will see them make the playoffs. Interested in placing wagers on the upcoming MLS playoffs – why not sign up with one of our Canadian friendly soccer sports betting sites and claim one of the generous sign-up bonuses available.