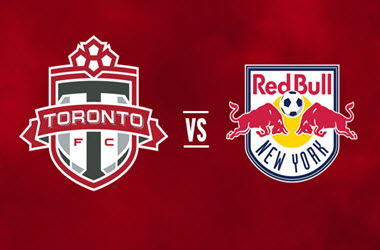 The upcoming game against the New York Red Bulls is looking promising for Toronto FC as they continue to get into form while dealing with absences due to international commitments and injuries. The solution and difficult start to the season means lineup changes for coach Greg Vanney.
TFC is hoping that progress continues to build as the host the Red Bulls on Wednesday night at BMO Park in Toronto. If successful, that will be welcomed news for punters looking to place bets on Saturdays game against the Houston Dynamo as they will find some excellent betting odds being offered in favour of TFC with our recommended list of MLS soccer betting sites, each of which is offering generous signup bonuses.
The return of striker Jozy Altidore is a welcome relief, and shorty Alejandro Pozuelo will be joined by Erickson Gallardo to help shore up the roster and give Vanney the options he needs. One of those is Jacob Shaffelburg and Captain Michael Bradley shoring up the back-end while Omar Gonzalez helps strengthen the defence.
On to the next 🐂

Vanney: https://t.co/ksbNo1stEB@Pozuelo_10: https://t.co/i3CShJx0Et@Chris_Mavinga: https://t.co/Ul3PGvwwZC#TFCLive pic.twitter.com/Q1lLURNbbX

— Toronto FC (@TorontoFC) July 15, 2019
Vanney is of the mindset that the right pieces of the puzzle are in place and he wants to focus on letting the team play, and when needed, use the replacements to fill in any gaps. TFC is improving with having a single loss in its last four matches, and that makes things look as if they have finally come out from under the hole it had created. For Vanney he feels they are getting there adding,
"For me, we're still a work in progress with everybody back together, to tighten up some of these things and recognize some of these situations that are presenting themselves for us."
The next nine games out of ten will see Toronto FC facing opposition within the Eastern Conference. However, there is plenty of time remaining for the franchise to increase their place in the standings as they still remain in the last playoff spot. The Red Bulls are sitting in third in the Eastern Conference and are only six points out of first. Yet, their record on the road is poor and in terms of away game wins, they sit thirteenth in the league.
However, both TFC and the New York Red Bulls are going into Wednesdays match with victories, Toronto won 2-0 against Montreal, and the Red Bulls claimed a 2-1 victory of the New York City FC. Red Bulls coach, Chris Armas will give TFC a different challenge in so far as speed and a frenzied game. They have only lost one game in their last four and in their last thirteen games, have won eight.
One advantage for Toronto is the return of key player Jonathan Osorio, who has finally returned after being on the sidelines due to an illness, and Drew Moor is also back training while overcoming his hamstring injury. That is good news to Vanney, who with Altidore as a second forward, it is not enough and he wants more, namely Alejandro Pozuelo. Commenting, Vanney said he thinks their second or third forward comes as a result of their wide positions.