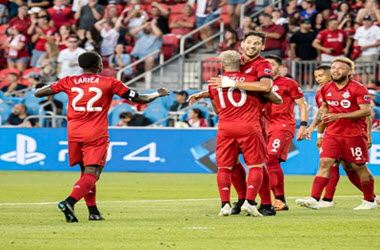 The Toronto FC faced off against MLS expansion team FC Cincinnati on Saturday, and for Jozy Altidore, it was a night to remember after scoring in his fourth back-to-back game to help lead the TFC in a 2-1 victory.
After suffering an embarrassing loss to Houston on their last road trip after Toronto FC Coach Greg Vanney shuffled the roster, he chose to return to his regulars, and that resulted in collecting a very much needed three points for Toronto.
The result was precisely what the franchise needed as they took control of the first half in what saw FC Cincinnati only getting off a single shot on goal, one that was way off target. However, while controlling the ball for 60% of the first half and taking eight shots on goal, TFC managed to only take a one goal lead heading into the second half. That goal was scored by Nick DeLeon at the 16th minute point sent a header past Cincinnati goaltender Przemyslaw Tyton.
Their second goal came from Jozy Altidore, who made a terrific strike by Jozy Altidore at the 50th minute mark after Altidore accepted a pass from Nick DeLeon and sent a blistering shot just outside of the penalty box past Tyton. It was the ninth goal for Altidore in their last thirteen games and his fourth in the last four games.
Cincinnati's Emmanuel Ledesma was able to reduce that lead to 2-1 during the 58th minute of play beating TFC goaltender Quentin Westberg with a hard shot, but it wasn't enough and came a little too late. The three points were a welcome relief for TFC as they sit one point shy of earning an Eastern Conference playoff spot.
Major League Soccer
Coach Vanney was pleased by the result but felt they could have made life a little easier, noting that they should have got more from the first half than they did. Entering the second half, Cincinnati chose to make changes, and that resulted in outshooting Toronto by 80% and saw them taking four shots on goal. Toronto has won three out of their last four games but have only earned 33 points in their last eleven games. They now are entering into an eight-game stretch against other Eastern conference and every point going forward is critical if they hope to earn a playoff spot.
For Cincinnati, the loss was painful after losing their last three games. They have won only two of their last nine and only earned 10 points out of a possible 57. However, being an expansion team has seen a constant stream of changes as they develop as a team. FC Cincinnati coach, Yoann Damet was pleased by the results of the second half and felt it was proof of what is capable from this team. Commenting, Damet said,
" The team is capable of great things like tonight. We created problems for Toronto. Playing on the road is never easy, especially Toronto is a tough place to play, so playing with the character that we showed tonight is a big satisfaction."
Both Toronto and Cincinnati will head back into the action next Saturday. This will see TFC heading to New York to take on the Red Bulls and Cincinnati will head to Vancouver to take on the Whitecaps. As the playoffs approach, seasoned punters hoping to score big in the playoffs will find some enticing promotional offers from leading MLS friendly sportsbooks such as Bet365. Register today and take advantage of its generous signup bonus!