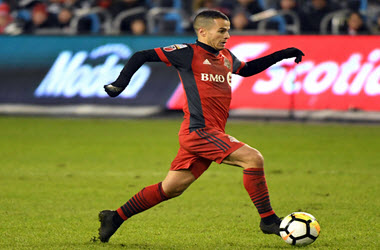 TFC's Sebastian Giovinco may have scored late in the wild card game against Mexico's Tigres UANL and lost 3-2, but the Toronto club still managed to advance to the CONCACAF Champions League semi-finals.
Last Wednesday saw Toronto playing its first game of a two-leg series at BMO Field and winning 2-1. The goal scored by Giovinco goal and Rafael Carioca scoring an own goal provide the team with two away goals, and that is what saw them move into the semi-finals.
For MLS teams, Mexico has been somewhat of a graveyard with only three MLS teams winning on Mexican soil. Last week's New York Red Bulls 2-0 victory against Club Tijuana was the third, with the other wins coming from the Seattle Sounders against Monterrey and FC Dallas against the Pumas. Each of those wins came with narrow margins of only one goal.
Tigres UANL's Andre-Pierre Gignac had two goals for the night, and Eduardo Vargas added another courtesy of a header. Tigres got intense 24 minutes into the first half with Gignac sent a cross to Jesus Duenas and giving him a chance on target. However, David Mavinga, a defender with TFC was able to block the shot as his teammates came to his aid putting a stop to the rebound.
TFC
Tigres UANL's Carioca, who mistakenly at the 64-minute mark, scored on his own net. This was crucial for TFC as it gave them an away goal and was instrumental in them advancing to the semi-finals. It was then up to Giovinco as he set up a pass to Jozy Altidore. Altidore sadly failed to connect with the ball as one of the defenders for Tigres managed to clip the ball.
Tigres's Vargas manage to tie it up going into the 69th minute as he shot the ball pass Alex Bono after executing a corner kick, and TFC's Giovinco came back scoring one during a free kick from outside the penalty zone. Only minutes later, Gignac managed to tie up the game as they approached the 84-minute mark. Gignac scored his second of the night after sending one past Bono during a penalty kick to give the Tigres the 3-2 win.
As the first leg of the semi-finals gets underway on the in April, it will certainly see heightened betting action with soccer betting sites. Which teams will be favoured is yet to be determined, but for TFC and MLS fans, the odds are not good for a positive outcome.