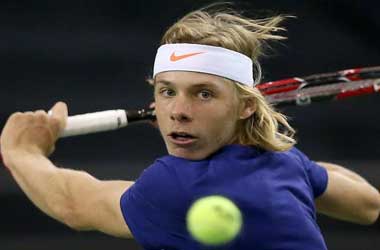 Canadians have started to take notice of young Denis Shapovalov who burst onto the scene in August when he defeated Rafael Nadal at the Rogers Cup in Montreal. The 18 year old Canadian has proven that it wasn't a fluke victory with some great performances at the 2017 U.S Open.
Shapovalov was impressive in the qualifying rounds and once he booked himself a place in the U.S. Open has not looked back. He has gone through the first two rounds at the U.S Open without dropping a set. He won his first round against Daniil Medvedev 7-5, 6-1, 6-2 and put in another convincing display in his second round match against the 8th seed Jo-Wilfried Tsonga, winning 6-4, 6-4, 7-6.
The top two Canadian players currently going around are Milos Raonic and Vasek Pospisil but there's a younger generation of tennis players that are quickly emerging and giving the veterans a run for their money.
US Open Tennis Championships
There is no doubt that Denis Shapovalov is one of the brightest prospects from this new generation of young tennis players. Former World Number One Mats Wilander who is currently commentating for Eurosport was full of praise for the young Shapovalov.
In a statement, Wilander said
He is a serious talent. To be 100 per cent honest, you cannot compare Shapovalov to any other youngster. He is a completely different level. It's like watching a combination of Nadal and Federer at 18 years old. He has the fire of Nadal and the speed around the court of Nadal and he has the grace of Federer — it's unbelievable. He really captivates the crowd.
Shapovalov has already shown that he has what it takes to beat the top players in the world after he surprised Nadal in August. Wilander believes that the Canadian teenager will pose a serious threat to the best players in the world and has asked them to watch out for Shapovalov who is scheduled to play Brit Kyle Edmund in the third round on 1st September.
Roger Federer had a phenomenal year winning Wimbledon and the Australian Open. He is one of the favorites to win the U.S Open but has had two back to back 5 set matches against Frances Tiafoe and Mikhail Youzhny that has pushed him to his limits. He will take on Feliciano López in the third round and will really want to win in three sets and give his legs a rest!