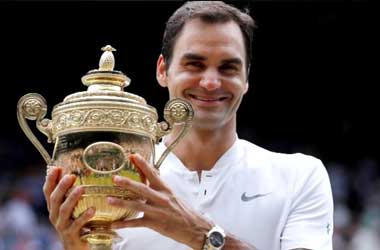 Roger Federer started the men's final at Wimbledon as the favourite and he did not disappoint his fans as he put in a master class performance, finishing Marin Cilic in just one hour and 46 minutes to win his 8th Wimbledon Championship and create a record in the process. Federer held the record along with William Renshaw and Pete Sampras of 7 Wimbledon Championship's prior to his Sunday victory on center court.
The Swiss great also created another record as he won the 2017 Wimbledon Championship without dropping a set, a record that was held by Bjorn Borg in 1976. The match between Federer and Cilic was pretty one sided much to the disappointment of center court but in the end, they were happy to see Federer bag his 8th championship winning 6-3 6-1 6-4.
In a post match statement, Federer said
It is very special to win eight titles. Wimbledon was always my favourite tournament, and will always be my favourite tournament. My heroes walked the grounds here. Because of them I think I became a better player, too. And No8 obviously means a lot to me because to be part of Wimbledon history is truly amazing.
There were many who believed that Federer was past his prime as his last grand slam win was back in 2012. Andy Murray and Novak Djokovic have been the dominant players during the last 5 years and have overshadowed the likes of Federer and Nadal. The 35 year old Federer has also been hampered with injuries and in 2016 was sidelined for over 6 months as he recovered from injury.
Wimbledon
However 2017 has been a better year for Federer who silenced his critics when he won the 2017 Australian Open. He looked like he had put his injuries behind him and also made important decisions regarding preserving his fitness. He decided not to play the clay court season and instead focused on the grass courts – which have always been his favourite surface. The move has paid off rather well as Federer won his 19th Grand Slam on Sunday.
There are some players who like to retire when they are on top of their game and there is a possibility that Roger Federer might just walk away after a fabulous 2017. Federer stated that he would love to play again and defend his championship in 2018 but he understood that age wasn't on his side anymore and there was no guarantee that he would be back next year.