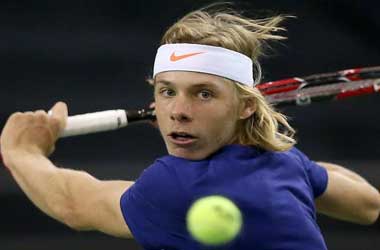 The two veterans and former World number one's Rafael Nadal and Roger Federer were the favourites to win the Rogers Cup in Montreal, Canada. Nadal was the number one seed and Federer the number two seed as defending champion Novak Djokovic dropped out due to injury and so did the current world number one Andy Murray.
Murray was set to lose his world number one ranking to Nadal, if the 31 year old Spaniard succeeded in making it to the semi-final of the Rogers Cup.
Nadal has had a great 2017 and reclaiming his world number one ranking would have been a great confidence booster heading into the 2017 US Open which starts on August 28.
However it wasn't to be as Canadian teenager Denis Shapovalov pulled of an amazing victory over the number one seed. The 18 year old who was born in Israel had a slow start and lost the first set 3-6 and it looked like Nadal would run away with the match and book a spot for himself in the quarter-finals. However, the Montreal crowd threw their support behind Shapovalov who lifted his game to win the next two sets 6-4, 7-6 (7/4).
TCtenniscanada
Shapovalov entered the Rogers Cup on a wild card and had trouble with his serve throughout the match serving up 7 double faults and getting only 67 percent of his first serve in. Nadal did a lot better on his first serve getting 77 percent in but also struggled overall with 6 double faults in a match that went on for nearly 3 hours. The third set went into a crucial tie-breaker and Nadal was outplayed as the Canadian teenager went on to win 7 out of the final 8 points and pull of a surprise victory, much to the delight of the Canadian crowd.
Roger Federer also had a scare against David Ferrer when he lost the first set 4-6 but the Swiss great quickly found his touch to win the next two sets 6-4, 6-2 and book himself a quarter-final berth. Federer continued his dominance over Ferrer as the two have met a total of 17 times and Federer has won all 17 encounters so far.
Federer has been in fantastic form winning 35 matches and losing just 2 matches in 2017. The 36 year old Federer says he will go into the quarter-finals with better rhythm and confidence as his opponent, Spain's Roberto Bautista-Agut has a similar game as David Ferrer.