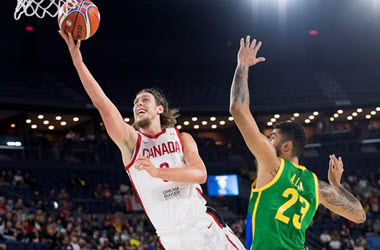 The FIBA World Cup of Basketball in China is only a year away. The next fifteen months will see qualifying games played out across the world as countries prepare and try to qualify.
For Team Canada, they are one step closer after defeating Brazil 85-77 during the second phase of qualifying. The win doesn't mean they are heading to China yet, but the win was a big step forward towards that goal.
Both Canada and Brazil were tied in their respective pools, and the battle was a hard fourth win. Canada was out front for most of the game, at one point they were ahead 13 points during the second half, yet as the clock ticked down, they needed to keep Brazil at bay as Brazil had reduced the lead to 6 points. Thanks to Kevin Pangos and a few three-pointers, they did just that.
The second phase has five more games to be played, and while Canada is in a solid spot, they can't sit back and relax, but for now, they can breathe.
Kelly Olynyk plays for the Miami Heat, played 35 minutes, earned twenty points and had nineteen rebounds. His results were at the top of both teams, and for Olynyk, he said it was a great win for Canada adding,
"Great win for us, in our situation. We haven't played together a lot, and to come in and put together a squad and get one win against Brazil here is huge … the more we play together, the better we're going to get, and this is one step in the right direction for us."
Canada was ahead by eight points in the fourth quarter and had control most of the game, however, seemed unable to shake off Brazil completely. Brazil was by far the best team Canada has faced so far in qualifying, but they did the job by scoring and impressive control of the ball.
They finished the game with twenty-five assists on thirty-three field goals, show 51% in comparison to Brazils 38%. A relatively small crowd were on hand at Place Bell, a new area that was built to house the AHL farm team of the Canadiens. While far shy of the 10,000 seats being filled, the crows in attendance were full of energy, many of whom sported Brazilian colours.
Brazil's team was far from its best as they chose to leave behind two of their most talented players, Leandro Barbosa and Anderson Varejao, both of whom played for the NBA but now lay for Brazil's domestic league. While Barbosa and Varejao may have been absent, the rest of the team put up a formidable challenge for Canada. Canada has a stronger talent pool than Brazil. It includes Cory Joseph, Tristan Thompson and Kelly Olynyk, all starters in the NBA. They also have Khem Birch and Justin Jackson from the Orlando Magic.
FIBA
After the game, while speaking to reporters, Aleksandar Petrovic, coach of the Brazilian team put the game to bad luck as they have to play much of the second round without their star NBA players due to the NBA season starting.
Commenting on Canada before the game, Petrovic said,
"We have their guys, we have film on them, they've played before either with Brazil or elsewhere in the world, so it's not like a complete mystery, but a lot of these games, you don't have a lot of time to prepare so you can only focus on yourself and make sure you're doing the most you can do, offensively, defensively, conceptually and go out there and try to apply it. You just have to go out there and play. It's one game. You can't leave anything back."
Olynyk, who is from Kamloops, B.C turned up the heat in the second quarter. Olynyk seemed a little out of sorts at the start of the game With Canada and Brazil tied 26-26, the Miami Heat forward shot down the court and scored a layup, and then added two three-pointers and another lay-up to put Canada in the lead. That run saw Canada gaining nine points over Brazil, and set the stage for the remainder of the game, one that Brazil could not catch up and struggled to contain Canada, let alone close the gap.
For Olynyk, he feels there is nothing better than putting on the Canada jersey. He added,
"There's just a lot of pride and lots of passion when you put on a Canadian jersey. There's something about coming home and being able to wear the red and white and Canada across your chest that kind of inspires you. It's hard to explain, it brings something else out of you.
Also helping Canada get a leg up over Brazil was Kevin Pangos. Considering this was his first senior game since 2013, it says a lot about Gonzaga teammate. Pangos seemed comfortable back on the court scoring ten points and earning eight assists.
Cory Joseph, who plays for Indiana Pacers also bagged sixteen points and registered ten rebounds. He was in the right place at the right time, and for coach Roy Rana, that was what they talked about as a team. Rana added,
"Our guys were willing to make the pass, willing to share, it wasn't about one particular person's performance, it was about getting the win. If we keep playing this way, I think we have some really special times ahead."
A dozen teams are trying to qualify in North America for the Worlds in a year from now. The top three from each pool will advance, and with Canada tied with Venezuela, they will need to register a win against Chili on Monday if they hope to advance further. Considering Chili's dismal record sitting a 1-5, Canada is in a good position to come away with a win.