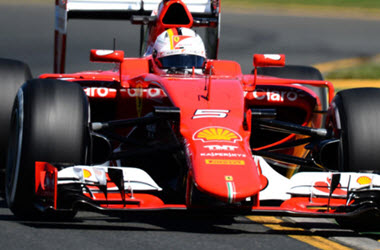 Sebastian Vettel will start the first Formula 1 season with confidence and hopes that it will bring an end to the dominance of Mercedes after he set a new unofficial record during testing on Thursday at the Circuit de Barcelona-Catalunya.
Vettel had a lap time of 1 minute, 17.182 seconds in his Ferrari and improved on the time set by Daniel Ricciardo's Red Bull car by almost a full second that he had set the day before.
Both Vettel and Riciardo were using the hypersoft tire compound that was introduced this season and using it proved to be the right choice for both drivers as each was over a second faster than Hamilton's Mercedes on the same track last year.
The track at the Circuit de Barcelona-Catalunya was resurfaced this year in January, and that also helped increase lap times with the new tires. Vettel took time to also get experience using a race simulator putting in over 180 lap on the final day of practice before the 2018 F1 season gets underway.
Kimi Raikkonen will get behind the wheel of his Ferrari this Friday for eight days of testing starting this Friday.
For Vettel, testing is important saying,
"The important thing is that the car was working all day. We did nearly 200 laps."
Lewis Hamilton is unsure how the times relate to actual race times as it is just testing, saying,
"I don't know if that is a good time. I really don't care, it's testing. It's really irrelevant. What matters is qualifying and the race. I hope it is a good time because that means that (Ferrari) is strong and we have a race on our hands."
Felipe Massa had previously the fasting time when he drove for Ferrari in 2008 registering a time of 1:18.339. While impressive, none of the times are recorded as official as only those that are recorded during the actual race become official.
Kevin Magnussen made people stop and watch as he had the second-best time of the gay in his Hass Racing car. This was impressive as the tires he was running on were slower than those used by Vettel.
Pierre Gasly, Carlos Sainz Jr and Nico Hulkenberg finished off the day and also chose the hypersoft tires. As they rounded out the last of the top five fastest in testing, clearly this is a tire to use come race day.
The warmer weather proved to be productive for most teams as they approached the 100 lap point. Both Bottas and Hamilton were several seconds slower than Vettel and after combining times for all laps of the day found themselves in the bottom half.
For Hamilton, he brushed it off to testing and fine tuning saying,
"We were just banging out laps."
Red Bull was in the bottom two for slowest in testing, but McLaren got some sought-after good news registering the 6th fastest time, this after several days of technical issues.
The new F1 season starts on the 25th of March with the Australian Grand Prix in Melbourne. Sebastian Vettel is the reigning champ, whether or not he wins back to back opening seasons races will be one Formula 1 sports betting sites will have to decide as they set odds in anticipation of race day. Of course, with a stellar year, all eyes will be on Lewis Hamilton to see if he wins another Drivers championship. Those anticipating the drivers' championship would get their bets in before the opening of the season on the 25th.