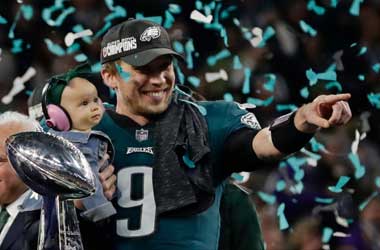 The Philadelphia Eagles were not favoured to win last night's Super Bowl, yet pulled off a late touchdown that saw them beat the Patriots 41-33 and celebrate with the hoisting of the Lombardi Trophy.
Nick Foles, Philadelphia Eagles quarterback threw the ball to Zach Ertz who scored a touchdown that held up during a review, and the Eagles defence managed to block late attempt plays by the Patriots to give Phillidelphia a 41-33 win and win their first Super Bowl.
Said Nick Foles, who was names Super Bowl MVP,
"We've played this game since we were little kids, we dreamed about this moment.There's plenty of kids watching this game right now dreaming about this moment and someday will be here."
It was Foles who was responsible for leading the Eagles to victory as he battled Brady play for play with a seventy-five yard drive that saw the QB send Ertz the final eleven yards to score the winning touchdown. As the Patriots went back on the offensive Brady was sacked by Brandon Graham, which was recovered by Derek Barnett who helped see Jake Elliot score a forty-six yard field goal and give the Eagles an 8 point lead.
As desperation set it, Brady managed to get to the midfield but failed to get it to the end zone.
NFL World
Commenting, Brandon Graham said,
"For us, it was all about one stop we had to make. We went out here and made that one stop."
The Eagles were the underdogs going into the Super Bowl last night, with Super Bowl sportsbetting sites all predicting the Patriots would win. The win was a much needed victory for the Eagles, one that saw injured QB Carson Wentz joining in the celebrations as Brady stood by in clear disappointment.
This was the first Super Bowl win for the Eagles and owner Jeffrey Lurie was elated saying,
"If there's a word [it's] called everything," Eagles owner Jeffrey Lurie said. "That's what it means to Eagles fans everywhere. And for Eagles fans everywhere, this is for them."
Nick Foles named Most Valuable Player
The events leading up to the Super Bowl saw Nick Foles picking up where Wentz left off and helping take the Eagles to the Super Bowl and its first victory.
"I felt calm. I mean, we have such a great group of guys, such a great coaching staff. We felt confident coming in, and we just went out there and played football."
The Eagles and Patriots were neck and neck going late into the final half. It wasn't until the Eagles had to sit on pins and needles waiting the results of a video replay that fans and players were able to relax and feel this might be their year.
"If they would have overturned that, I don't know what would have happened to the city of Philadelphia, but I'm so glad they didn't overturn it." said Ertz.
The touchdown was deteemed good and that saw Eagles fans who were in attendance at the US Bank Stadium in the frigid cold to support their team begin early celebrations, and hearing but not Fly Eagles Fly playing throughout the stadium as the Lombardi Trophy was handed to Eagles owner Jeffrey Lurie.
For Brady, processing the loss will take some time. The Patriots started out strong looking like they were on their way to a sixth title but Foles had his own plan of attack and fought back hard gaining yards and scoring touchdowns. With six years in the NFL, Foles knows a thing or two and this year things lined up to give him the chance to prove it.
For Brady, he said after being asked if he plans to retire,
"I mean it's 15 minutes after the game ended, so I'd like to process this a little bit. I wouldn't see why I wouldn't be back."
There is little doubt that Brady is still at the top of his game, and with five Super Bowls and three MVP awards under his belt, it is a pretty safe bet to expect to see him back next season.