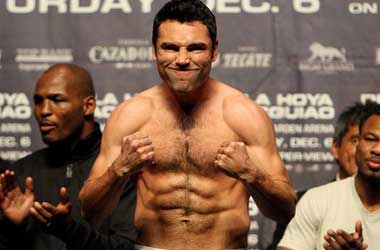 Just about everybody wants to have a crack at Irish superstar Conor McGregor both in a boxing ring as well as in the UFC's Octagon. McGregor hasn't fought for the UFC in 2017 and any chances of him making an appearance at UFC219 on December 30th has been ruled out after reports surfaced that the UFC had pulled him from the card due to his recent behaviour which included slapping a boxing commissioner and pushing referee Marc Goddard during a Bellator event in Ireland.
Boxing hall of famer Oscar De La Hoya who retired from professional fighting nearly 10 years ago is apparently looking at making a one-fight comeback and announced that he wants to fight Conor McGregor as he believes he can knock him out in under 2 rounds. McGregor has only fought once in a boxing ring and that was in August when Mayweather had a TKO in the 10th round.
Oscar De La Hoya was very critical over the Mayweather vs. McGregor fight and said it was a circus, so in a way it is surprising to see that De La Hoya now wants to get into the ring with McGregor. De La Hoya fought Mayweather in his prime and lost and is probably looking to make a statement by saying that he can do better than Mayweather and finish McGregor within 2 rounds.
The Fumble
In a statement, Hoya said
You know I'm competitive. I still have it in me. I'm faster than ever and stronger than ever. I know I can take out Conor McGregor in two rounds. I'll come back for that fight. Two rounds. Just one more fight. I'm calling him out. Two rounds, that's all I need. That's all I'm going to say
Oscar De La Hoya is now 44 years old and the only reason he would really want to come out of retirement is for a huge payday. Mayweather and McGregor have earned in excess of $100 million each for their fight which set pay-per- view records. The Hoya vs. McGregor fight will certainly not generate as much interest or revenue but it could end up being another good payday for both fighters. Paulie Malignaggi has also been very eager to book a boxing match with McGregor but so far the Irish fighter has not shown any interest.
McGregor is expected to get back into the Octagon and defend his lightweight belt early next year and once that is done, it is quite possible that he could entertain the thought of once again stepping into the boxing ring.