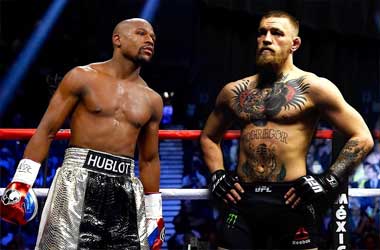 The final press conference for the Mayweather vs. McGregor fight took place on August 24 at the MGM Grand.
Fans were expecting them to put on another crazy show like they did during the four city world promotional tour but it wasn't to be as both fighters looked very subdued and did not take personal cracks at each other.
There have been rumors in the media that Floyd Mayweather wasn't taking this fight too serious and was going easy on his training. Mayweather squashed these rumors by saying that he had dominated boxing for 21 years and had a 49-0 record because he treated every fight with respect and his work and training ethic had not changed for the McGregor clash.
Floyd said that he had faced fighters before who claimed to have a lot of power including Canelo, Pacquiao and Mosley but none of them managed to KO him. He said that over the course of 21 years he had shown fans that he has a granite chin and was able to give it as well as take it. He called out McGregor and asked him if he would be able to take it as much as he could give it.
UFC – Ultimate Fighting Championship
Mayweather has a reputation of being a defensive fighter and a counter-puncher but he has promised to change his strategy for the McGregor fight and be more entertaining for the fans. Mayweather has said that he will walk McGregor down and has also promised his fans a KO.
McGregor continued to play mind games with Mayweather as he arrived late for the press conference and forced Mayweather to wait. The 29 year old Irish fighter will make his boxing debut on August 26 at the T-Mobile Arena in Las Vegas, Nevada. McGregor has been labeled Mystic Mac due to the fact that he has been bang on when it comes to his fight predictions in the UFC. He has promised to knock Mayweather out before the end of 2 rounds. That's never been done before but McGregor has built a reputation for doing things that has never been done.
The Notorious one is not very concerned about being able to take punches from Floyd as he does not believe he has the power to hurt him. He told the media that he once he KO's Mayweather, he will become the king of boxing and compete in MMA as well as Boxing going forward.