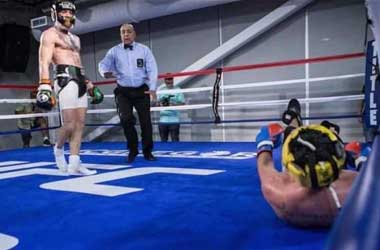 Team McGregor brought two time boxing champion Paulie Malignaggi into their camp to spar with McGregor in the lead up to the August 26 fight with Floyd Mayweather. Malignaggi had been sharing his thoughts with the media over the past week on how the sparring sessions were going down.
Malignaggi sparred 12 rounds with Conor McGregor and said that McGregor was a 'dirty fighter' and the sparring was intense, more like a real fight. The two were reportedly thrash talking each other throughout the 12 rounds and Malignaggi admitted that he gassed out during rounds 11 and 12, as he had come into camp after a long flight.
Team McGregor decided to respond with a leaked picture of the sparring session which shows Malignaggi on the canvas.
Most fighter camps prefer to keep what's happening within their sessions to themselves and not share anything with the media but Team McGregor have been using social media to give fans an insight into McGregor's training sessions.
The leaked picture did not go down well with the two time former champion who took to Twitter to express his frustration. Malignaggi tweeted:
Its not nice 2 paint a pic that isn't true, this was a pushdown in sparring, post the whole video rounds 1 through 12 UNEDITED https://t.co/R82BLiMMVm

— Paul Malignaggi (@PaulMalignaggi) August 4, 2017
Malignaggi will most likely share his side of the story regarding the leaked picture with the media and give the McGregor camp even more publicity.
The picture also sends a clear warning to Team Mayweather as Malignaggi had earlier said that McGregor had good power in his left hand but certainly not 'Oh My God' kind of power! Team McGregor's message with the leaked photo is that it does not take 'Oh My God' kind of power to knock Malignaggi to the canvas or even Floyd Mayweather.
Fight Source
However there are some boxing fans that responded to the leaked photo and questioned its authenticity. Some believe that Team McGregor purposely leaked the picture in collaboration with Malignaggi to continue to play mind games with Team McGregor and also to promote the fight.
Malignaggi has lashed out at Team McGregor and accused them of setting him up. The retired boxer said that he joined Team McGregor because he wanted to play a part in what is being billed as the biggest boxing match in history but after Team McGregor's antics, he is thinking of opting out.