OHL Suspends Niagara IceDogs GM, Team Captain & Imposes $100k Fine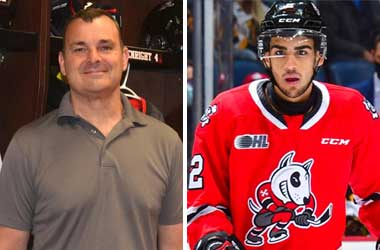 Summary
Niagara IceDogs GM and Team Captain get suspended by OHL
OHL also imposes $100,000 penalty on Niagara IceDogs
OHL took strict action against Niagara IceDogs for multiple policy violations
The Ontario Hockey League (OHL) released a statement and confirmed that it has suspended Niagara IceDogs GM Darren DeDobbelaer, while team captain Landon Cato and goalie Joshua Rosenzweig have received life bans from the OHL.
OHL Also Imposes $100K Penalty On Niagara IceDogs
GM Darren DeDobbelaer received a suspension for two seasons and the Niagara IceDogs were also hit with a $100,000 penalty. The OHL decided to impose these sanctions and penalties in order to send a strong message to the Niagara IceDogs and the rest of the teams that stringent action would be taken when policies and procedures were not followed.
The OHL decided to launch an independent investigation into the Niagara IceDogs after there were reports of bullying and harassment. The investigation showed that the OHL's code of conduct and anti-harassment policy was violated after 15 ex-team members, staff, coaches and team officials were interviewed.
The investigation showed that the Code of Conduct and the Maltreatment, Bullying and Harassment Protection and Prevention Policy were violated. The final report also highlighted that team owner Darren DeDobbelaer did not keep the investigation confidential as required by the OHL.
Cato and Rosenzweig were also found to have breached the Physical Maltreatment and Aiding and Abetting policy.
Apart from being slapped with a $100k penalty, the Niagara IceDogs have also lost their first pick opportunity at the 2024 OHL Priority Selection Draft. The Niagara IceDogs had a very poor 2022-2023 season in the OHL and ended up in last place.
Canadian Sports Leagues Taking Strong Action Against Misconduct
Canadian hockey has been rocked in recent months by scandals concerning sexual misconduct, financial misconduct and a series of cover-ups. This resulted in the entire executive board of Hockey Canada stepping down and a new board accepting a 12 month tenure to bring about change.
Canadians have lashed out on social media at Hockey Canada and sporting leagues who cover up bullying, harassment and any other misconduct. This backlash has definitely helped leagues like the OHL to take a strong stance and dish out stringent punishment to offenders and send a message that there will be no more cover-ups in Canadian sport.