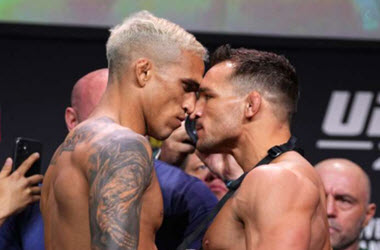 After waiting over 10 years and experiencing his share of ups and downs, Charles Oliveira has finally been crowned the UFC Lightweight Champion. It took the favoured Oliveira nineteen seconds into the second round to bring an end to the fight after referee Dan Miragliotta stopped the fight.
Oliveira was confident in the lead up to the championship bout in his bids to win the UFC lightweight title. After jumping into the octagon, Charles Oliveira took charge, dropping Chandler in the opening seconds with a left hook. It was enough to do damage and enough that Chandler was unable to overcome and get away from the constant attack by Oliveira.
"I told you I was going to knock him out, and I came and knocked him out, I proved to everybody I'm the lion of lions."
Immediately after the TKO victory, Oliveira left the cage to talk to UFC president Dana White. During the post-fight media session, when asked what was said between the two, While replied that Oliveira said,
"Thank you for everything you've done for me. Tonight was the biggest opportunity for my life."
White also spoke about the fight saying it was an incredible main event and that both fighters were unbelievable but that "Oliveira pulled it out."
Ultimate Fighting Championship
After Khabib Nurmagomedov retired after UFC 254 and finalized his retirement earlier this year, the lightweight title vacant. A title Nurmagomedov held since 2018, it gave Oliveira the opportunity he had been waiting for since joining the UFC more than ten years ago.
The title bout was Charles Oliveira's first chance at winning a title since joining the UFC. However, his opponent, Michael Chandler, had only recently joined after leaving Bellator and going into the fight, they were ranked at No.3 and 4 respectively,
While pre-fight bookmakers were calling the fight in favour of Oliveira, our Charles Oliveira vs Michael Chandler fight preview also put Oliveira as a slight favourite. Of course, with UFC 263 scheduled to take place on June 12th, now is a good time to sign up and claim a first-deposit bonus with Canadian bookmakers.
Heading into the fight on Saturday, Oliveira had a 31-8 record and had won his last nine fights to make him one of mixed martial arts best submission fighters. With the win over Chandler, Oliveira has now recorded a record sixteen finishes in the UFC since rejoining the lightweight division.
Oliveira, who at 31 and of Portuguese descent, is nicknamed "do Bronx". In Portuguese, this essentially means "from the ghetto", and he now returns home to Guarujá, Brazil, with a gold belt and the pride of being the lightweight champion. Taking the highroad post-fight, Oliveira spoke to Chandler saying,
For his part, Chandler entered the fight with a 22-6 record and won his last three fights. One of those included a victory over Dan Hooker in January during UFC 257. A native Missourian, Chandler is a three-time Bellator champion in the lightweight division, and in Bellator history, he recorded thirteen finishes, the most in Bellator's history.
"Michael, you're a great champion, but today was my day. Favela, it is ours."
As for what the future holds for Oliveira, it is possible that the Brazilian could fight the winner of the Poirier vs McGregor fight scheduled for the 10th of July. However, when asked, Dana White said nothing had been discussed nor thought about.
For Chandler, his outlook on the future is simple – to earn a chance for a second title bout shot and win.