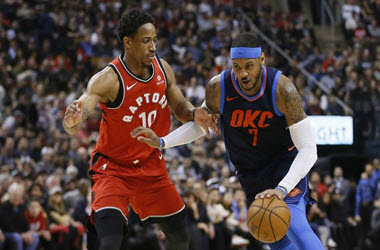 The Toronto Raptors were well on their way to setting a new club record last night but saw it evaporate in the final seconds on Sunday. The Raptors and Thunder were tied going into the last minute of play when Oklahoma scored seven points, and the Raptors allowed emotions to come into play. After all, was done it saw Serge Ibaka, DeMar DeRozan and Dwane Casey ejected from the game and called for improved officiating.
Oklahoma's Russel Westbrook was the top scorer for the Oklahoma City Thunder and the night saw him score thirty-seven points. The win gave the Thunder their 6th straight win and 9th win in the last eleven. Westbrook also had fourteen assists and thirteen rebounds on the night.
The sell-out crowds at the ACC were not impressed with officials booing them aggressively as they were led off the court by security. Casey is expected to make an official complaint about the poor officiating that often seem one-sided. Casey stated the team just wants consistency and fairness, and in the case of DeRozan, he felt that was not the case.
Said DeRozan on the officials,
"Man, they need to do something, because it's not just us, it's every game. But tonight? Come on, man. That can't happen. Can't happen."
The final 30 seconds saw DeRozan allow his emotions to get the better of him as the Raptors trailed 127-125 and officials failed to make a call on Corey Brewer. Speaking about his run in with Brewer, DeRozan said,
"He smacked me, he tried to smack me because I had a layup. Period. I got fouled."
Toronto Raptors
When asked if he felt that the officiating cost Toronto the game, DeRozan said,
What did you think? You think so? It's obvious for us."
For Lowry, he backed up DeRozan but was careful not to add gas to the fire saying,
"I've got my dog's back, no matter what he's saying. I'm riding with my dog, no matter what."
Casey stopped short of being critical of the officiating but made comments that he felt things got out of hand laying part of the blame on the Raptors starting,
"We shot ourselves in the foot, we missed some easy shots, layups, free throws, turnovers. And that's a good team, but we'll complain in the right, proper way of how the game is called. And again officials are going to miss calls. But at the juncture of the game where some of the calls were made, we've got to get it right around the league. Not just this game, but our entire league."
Toronto saw twenty-five fouls compared to the Thunder's twenty-four. Coach Casey recognized that frustration got the better of some and that things could have been handled better when dealing with a four-point game. Oklahoma's Westbrook saw seventeen of his night's points in the fourth quarter. The win was sealed after Westbrook scored two points with just over twelve seconds remaining. The game saw twenty-five lead changes and was tied twenty times.
Said Westbrook on the game against Toronto,
"Tough environment, great team. You've got to keep your composure throughout it all, and that's what this game was all about. When you have a lot of veteran guys on this team, it's easier to do that and we saw it tonight."
The Raptors next play Orlando while the Thunder head to Boston. While last night's loss was one of contention, the Raptors remain on top of the Eastern Conference and will be favoured with most sports betting sites that offer odds on basketball. Any updates relating to officiating complaints will be updated as released.