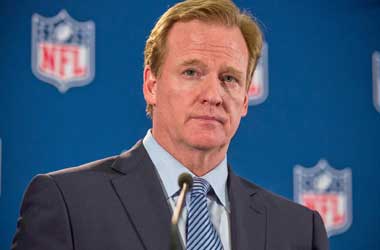 Commissioner Roger Goodell will continue to head the NFL as he signed a new contract extension that will be valid till 2023. The 5 year contract extension is estimated to provide Goodell close to $200 million during this tenure, which is an average of $40 million each year.
Unnamed sources close to the deal said that the guaranteed base pay for Goodell is in million but in single digits. More than 80 percent of these revenues are bonus based, which means Goodell will be required to fulfill certain requirements to be eligible to claim these bonuses.
The Commissioner and the 6 member NFL compensation committee were able to reach a mutual decision and get the contract signed.
ESPN
In a statement, the NFL compensation committee said
Our Committee unanimously supports the contract and believes that it is fully consistent with 'market' compensation and the financial and other parameters outlined to the owners at our May 2017 meeting, as well as in the best interests of ownership. We are pleased to report that there is a nearly unanimous consensus among the ownership in favor of signing the contract extension now.
The nearly unanimous consensus is due to the fact that Dallas Cowboys owner Jerry Jones had a change of heart regarding renewing Goodell's compensation contract. All 32 NFL team owners had agreed to a contract extension in May 2017 but Jones wasn't happy with some of Commissioner's recent decisions and threatened to sue the NFL if Goodell's contract was extended.
Jones will not be proceeding with any lawsuit and is reported to have accepted the contract extension after demanding better 'accountability' in the contract extension process. The Commissioner will have a number of important decisions to make and targets to hit in the next five years.
Some of those criteria include sorting out the NFL anthem protests, making sure NFL television ratings increase, establishing a new labor agreement with NFL players as the current NFL Players – NFL agreement is set to expire in 2021. The other important deal that Goodell will have to make during the next 5 years is signing new NFL broadcast contracts and getting the NFL a good deal in terms of fees.
Roger Goodell was appointed as NFL Commissioner in 2006 and since then has earned a reported $212.5 million. His earnings for 2015 amounted to $32 million and the new contract extension with its bonuses will allow Goodell to top that amount if he performs.