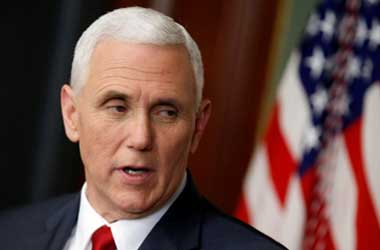 U.S Vice-President Mike Pence made his intentions clear on Twitter that he intended to visit the game between the San Francisco 49ers and Indianapolis Colts on Sunday as he wanted to see Peyton Manning's jersey get retired. Pence, the former governor of Indiana and a strong Colts supporter did not stay and watch the game as he took offense when players decided to get on their knees during the National Anthem.
President Donald Trump and the National Football League (NFL) have been at loggerheads after the President lashed out at NFL players who were not standing during the National Anthem. Hundreds of NFL players are now going on one knee or sitting down during the National Anthem as a sign of protesting police violence against blacks. The President created a lot of controversy when he called on the NFL to fire players who disrespected the National Anthem.
Mike Pence immediately left the game once he found players bowing during the national anthem and would later tweet that he fully supported President Trump's views on NFL players disrespecting the national anthem.
I stand with @POTUS Trump, I stand with our soldiers, and I will always stand for our Flag and our National Anthem. pic.twitter.com/B0zP5M41MQ

— Vice President Pence (@VP) October 8, 2017
The White House would later release a statement from Pence which said that it wasn't too much to ask NFL players to stand and show their respect to the national anthem and American flag.
CNN
Ironically the San Francisco 49ers is one of the teams which had a large number of players protesting during the anthem. Eric Reid who works as safety for the San Francisco 49ers said that Vice-President Mike Pence would have definitely known that he was going to witness 49ers protesting during the anthem and that his abrupt departure was nothing more than a PR stunt.
In a statement, Reid said
This is what systemic oppression looks like: man with power comes to the game, tweets a couple things out and leaves the game in an attempt to thwart our efforts.
President Trump also tweeted and said that he had asked Vice-President Pence to leave the game if he found players disrespecting the national anthem and that he was proud of Pence and the second lady for taking a strong stance.
I asked @VP Pence to leave stadium if any players kneeled, disrespecting our country. I am proud of him and @SecondLady Karen.

— Donald J. Trump (@realDonaldTrump) October 8, 2017
Americans have sided with President Trump on this issue as they agree that there is no place in the NFL for disrespect to be shown to the flag or the anthem.
Dallas Cowboys owner Jerry Jones also pledged his support when he stated last week that any players from the Cowboys found dishonoring the flag or anthem will be fired.