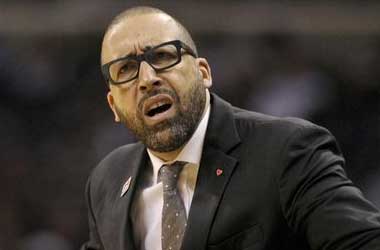 The head coach role in premier leagues like the NBA, NFL, MLB or NHL is one that carries with it great responsibility and accountability. When a team performs exceptionally well, the players and the head coach get a lot of credit and appreciation.
However when a team fails to perform, it is usually the head coach that bears the brunt of all the criticism and negativity. Memphis Grizzlies head coach David Fizdale who is rated by many as one of the best NBA coaches in the game today found out the hard way that his services were no longer required by the franchise. Chris Wallace, the General Manager of the Grizzlies announced this week that the team had decided to terminate Fizdale's contract and had now appointed assistant coach J.B Bickerstaff as the interim coach.
The Memphis Grizzlies have had a poor start to their NBA season and now sit at 7-12 in the league. They have lost their last 8 games and look pretty flat in recent games. Fizdale was under a lot of pressure going into the game against the Brooklyn Nets on Nov 26 and he did something strange in the fourth quarter that caused him to receive more flak. He decided to bench centre Marc Gasol during the fourth quarter when the game was in the balance and the Grizzlies ended up on the losing side yet again with an 88-98 scoreline.
ESPN
Marc Gasol is a star player for the Grizzlies and is the leading the table for the franchise in terms of points, rebounds and assists. Gasol wasn't happy with being benched and was very frustrated with Fizdale's decision. A number of NBA players including LeBron James and Dwayne Wade expressed surprise over Fizdale's decision to bench Gasol during the fourth quarter.
It looks like that could have been the final straw that broke the camel's back as soon after the Grizzlies made the decision to sack Fizdale. His sacking has shocked a number of NBA coaches including Steve Kerr of the Golden State Warriors and Terry Stotts from the Portland Trail Blazers.
In a statement, Kerr said
I think David Fizdale is one of the best coaches in the league. He's a brilliant guy, he's got an edge to him, he's tough, he's smart. Their whole team is injured, Mike Conley is out. Like, this is what happens, you lose when your best players are out and when your whole team is wiped out. It caught me off guard