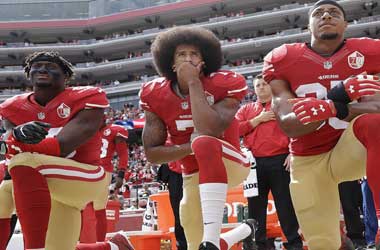 President Donald Trump has received a lot of flak over his policies, statements and tweets on a number of international and domestic issues but over the weekend, it players from the National Basketball League (NBA) and National Football League (NFL) also lashed out at President Trump for his aggressive remarks against the leagues.
Trump's issues with the NFL stem from the fact that there are a number of American players who have started kneeling down when the National Anthem was being played before a game. This was their way of protesting and voicing their disapproval against the violence that police personnel were inflicting upon African-Americans in the country.
The first player who did this was Colin Kaepernick who represents the San Francisco 49ers.
Kaepernick started kneeling during the National Anthem in 2016 and since then a number of players have followed suit. President Trump felt that they were disrespecting the flag and should be disciplined by their franchise owners.
MSNBC
In a statement, President Trump said during a rally in Alabama
Wouldn't you love to see one of these NFL owners, when somebody disrespects our flag, to say, 'Get that son of a bitch off the field right now, he is fired'.
The NFL and its players were upset at the President's remarks and a number of them took to social media to share their views. Roger Goodell, the NFL commissioner stated that such divisive comments from the President show a lack of respect while San Francisco 49ers owner Jed York stated that such remarks coming from the President of the United States was offensive, callous and contradictory to what America stands for.
NBA Champions, the Golden State Warriors were invited to visit the White House and meet with President Trump. However their star player Stephen Curry appeared to be having second thoughts of visiting the White House and it came to the attention of President Trump. Trump took to Twitter to say that it should have been an honor for the Golden State Warriors to visit the White House but since Curry was having second thoughts, the invitation was now withdrawn.
A number of NBA players including LeBron James and Kobe Bryant lashed out at Trump for his remarks. James was extremely sarcastic in his Tweets.
U bum @StephenCurry30 already said he ain't going! So therefore ain't no invite. Going to White House was a great honor until you showed up!

— LeBron James (@KingJames) September 23, 2017