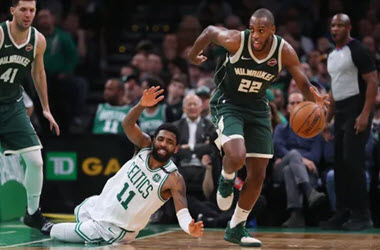 The Milwaukee Bucks kept applying pressure, and the Boston Celtics seemed intent on making mistakes last night as the Bucks took a 2-1 series lead thanks to the efforts of Giannis Antetokounmpo.
The repeated fouls from Boston may have extended the second half, but there seemed little they could do to rein in and Bering a halt to Antetokounmpo's performance at TD Gardens. By the end of the game, Antetokounmpo had racked up 13 rebounds and scored 32 points, while George Hill came in second for the night with 21 points and Khris Middleton had 20 to help lead the Milwaukee Bucks to a 123-116 victory over the Celtics and putting them up by one in the Eastern Conference semifinal series.
Antetokounmpo earned 16 points from his 13 field goal attempts during a game that saw a combined total of 53 fouls, 39 of those came in the second half. To date, during the regular season, Antetokounmpo has scored at least 30 points in each of its regular season games against the Boston Celtics. Commenting, Antetokounmpo said.
"I'm just gonna keep being aggressive. That's what my teammates want me to do. If I have to take it all the way, I'll take it all the way."
Boston's Kyrie Irving has 29 points for the night, and Jayson Tatum had 20. The Celtics will play host to the Bucks on Monday for Game 4, and basketball punters looking to place bets with leading sportsbooks will find multiple bonus offers up for grabs such as those offered by Sports Interaction.
Home Court, Reclaimed!!

The Game 3 Mini-Movie is HERE!!#FearTheDeer | #NBAPlayoffs pic.twitter.com/GEUkbFaUXX

— Milwaukee Bucks (@Bucks) May 5, 2019
At the half way point, it was Boston leading by a small one point margin but they failed in the third quarter and were outscored 40-31 and during the final quarter were behind by as much as 17 points. They gave up eighteen turnovers, and that saw Milwaukee earning 28 points. Commenting on the fouls and late game attempts by Boston, Kyrie Irving said "It's getting ridiculous at this point"
Milwaukee replaced Sterling Brown with Nikola Mirotic for Game 2 throwing Boston a curveball tactically. In response, Boston's coach, Brad Stevens chose to stick with its plan assigning Semi Ojeleye the task of guarding Antetokounmpo. The Celtics focused attention towards Antetokounmpo for most of the game doing all they could to try to keep him under control and not scoring. That saw Jaylen Brown managing to pull off a dunk over the towering Antetokounmpo much to the delights of those in attendance at T.D Garden.
Friday's game saw Jaylen Brown carrying out multiple defensive play including one that saw Brown block a layup attempt by Tony Snell. However, the Bucks continued to rack up the points and led at one point in the third quarter by twelve and heading into the fourth with a strong advantage.
Brown was handed his fifth foul in the fourth for contact with Eric Bledsoe. That was not well received by the crowds but seemed to be the way things went for the Celtics last night, one that also saw Jayson Tatum handed a technical for his protesting over being hit with a foul on Antetokounmpo.
As the fourth played out, Milwaukie increased their lead over Boston to 114-97 and with less than five minutes remaining, it was too great of a lead for Boston to overcome.