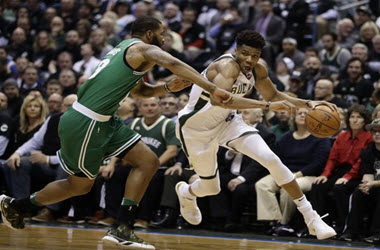 The Milwaukee Bucks took on the Boston Celtics last night and came out with a victory to force game 7, for Giannis Antetokounmpo it was the biggest game of his career.
In a game that saw Giannis Antetokounmpo score 31 points, collect 14 rebounds and help the Bucks win in a crucial do or die game, it was one for the story books for Giannis.
Commenting, Antetokounmpo said,
"At the end, it was all about will. I was out there, I was trying to make plays, I was trying to be aggressive."
And for Antetokounmpo, there was plenty of help along the way as the Bucks kept the Celtics at bay in the fourth quarter. Malcolm Brogdon and Khris Middleton both bagged 16 points apiece.
For a team that the Raptors beat in six games during last year's playoffs, just making it to Game 7 has been a big leap forward for the Milwaukee Bucks are considered an up and coming team but have not made it beyond the first round in the NBA playoffs since 2010.
Milwaukie Coach, Joe Prunty said this is exactly what you work towards commenting that you,
"Embrace that moment. Go out as a team, attack it together … find a way to get a win."
The Boston Celtics has their chance to take the series in Game 6 being they were out front by nine points, but the Bucks made a final push to close the gap and eventually take the lead. Boston was unable to recover, and as far as Coach Brad Stevens is concerned, the team got stagnant and didn't play well.
Milwaukee Bucks
As for Milwaukee, it was Antetokounmpo who led the charge for the Bucks, and he took it straight to the Celtics defence. Bledsoe was on his game after picking off an inbound pass from Jayson Tatum,
Antetokounmpo took a rebound and scored to give the Bucks 8 point lead with only three minutes left in the game, and that was part of a run that saw the Bucks scoring 11 points compared to the Celtics 3.
Before the game got underway, Antetokounmpo said he would be far more aggressive on the court knowing elimination was one loss away. A two-time All-Star, he produced when it was do or die time.
Said Antetokounmpo,
"It's big. We've grown as a team. For us to win Game 6 — we have a big opportunity ahead of us."
The Celtics top scorer on the night was Jayson Tatum who netted 22 points, he was followed by Terry Rozier who has 18 for the night.
Said Coach Stevens,
"Clearly their speed and length and athleticism affected us. They were quicker to the ball all night than us, best probably exemplified by the rebounding numbers."
The Bucks and Celtics now head into Game 7 tomorrow night in Boston. One thing that is certain is that court side tickets will be a hot commodity on Saturday night and basketball bookmakers will be taking action on who will win the series. At this stage, it is anyone game, the only question is who wants it more.