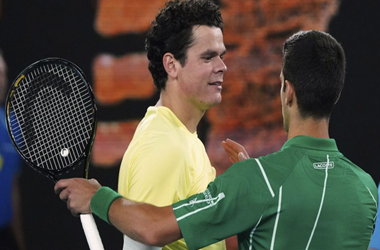 After a controversial start to the 2021 Australian Open, Canadians Milos Raonic and Felix Auger-Aliassime found themselves heading for the dressing rooms after Raonic was eliminated by Novak Djokovic and Auger-Aliassime by Russia's Aslan Karatsev on Sunday.
Canadian Milos Raonic was hoping a bit of luck and some hard played tennis would end in his favour as he met Novak Djokovic in the quarterfinals on Sunday. However, the only thing missing was luck after Djokovic beat the Canadian in four sets (7-6, 4-6, 6-1, 6-4).
Another Canadian, Montreal's Felix Auger-Aliassime also found the day wasn't as he hoped after facing off against No. 114 seeded Aslan Karatsev in their fourth round match. Auger-Aliassime, who is ranked 19th on the ATP Tour, looked like he would advance after going ahead two sets only to falter and lose to the Russian in five sets (6-3, 6-1, 3-6, 3-6, 4-6).
Raonic and Auger-Aliassime were the last two remaining Canadians in the opening Grand Slam of the 2021 season. Auger-Aliassime blew a perfect chance to kick start his season with a strong performance, while Raonic can't seem to beat Djokovic under the best of circumstances.
The two have played a dozen times in past tournaments and in every pairing, Milos Raonic has struggled against the No. 1 seeded Serbian. What is worse is that Djokovic was not at his best after tearing a muscle in his match against Taylor Fritz. Yet, even with a torn muscle, Djokovic managed to come out on top and earn his 300th career match in a Grand Slam.
Austrailian Open TV
After five other Canadians were eliminated in the opening stages, it as left Canada without any remaining players. Commenting on the disappointing results, Auger-Aliassime said,
"It's a shame, It's really a shame that I couldn't get through today. It's difficult to swallow but it's tennis. That's how it is. That's life."
Aslan Karatsev, who is playing one of his best tournaments of late, advanced to the quarterfinals after he defeated Argentina's, Diego Schwartzman. With his win over Auger-Aliassime, Karatsev advances to the quarterfinals where he will face Grigor Dimitrov. The 21 seeded Bulgarian earned his place in the quarterfinals after defeating Dominic Thiem in three back-to-back sets. The win over the No.3 seeded Thiem wasn't lost of Auger-Aliassime, who post-match spoke to the media stating,
"He played good. Of course, I wish I could've served better. But, I can't just snap my fingers and it just happens. I got to be just a better player overall to overcome these situations."
The loss for Auger-Aliassime was a devastating blow after he took less than 40 minutes to win the first set. Yet, Karatsev hard in the opening set including fighting off three game points, only to see the Canadian go up by two after winning the second set 6-1.
Unfortunately for Auger-Aliassime, the next three sets didn't go his way as he watched the Russian overcome the deficit and win the third, fourth and then the tie-breaking set. The third set started out with both Auger-Aliassime and Karatsev scoring points, but Karatsev took the lead after the Canadian went down 4-2 in the third.
Things didn't improve for Auger-Aliassime after he dropped the opening game in the fourth set. While he managed to win the second match, he was sidelined after Karatsev scored five aces before he tied the game two sets apiece.
With a tie breaking set on the horizon, something neither player has ever faced in their career, Auger-Aliassime managed to get the opening jump after winning the opening match. However, Karatsev managed to break the Canadian and win the second and third matches.
Unfortunately, things went for bad to worse for Auger-Aliassime after Karatsev went up 4-2. While he fought back and managed to win two more matches, Karatsev prevailed to win the fifth set 4-6. Commenting on the defeat and obvious disappointment, Auger-Aliassime said,
"The positive thing is, mentally, I stayed positive. I believed until the end. Even when I was down in the fifth set, I still tried, I still believed."
With the quarterfinals set to begin in the next several days, punters hoping to place wagers o the quarters, semis and finals at the 2021 Australian Open have some fantastic opportunities with leading Canadian sportsbooks. The good news is, the NHL is also in full swing and with promotions offering hundreds in sign up bonuses, the timing couldn't be any better.
The big question in the tennis community is whether Novak Djokovic will be able to win his ninth Australian Open Grand Slam. Ranked No. 1 in the world, and at 33 years of age, he is still playing at a level above most others on the tour.