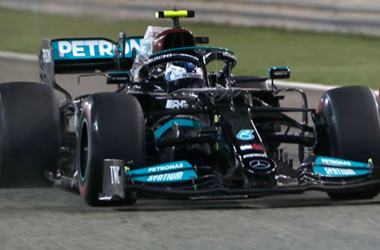 Valtteri Bottas performed the best lap times at Bahrain for Mercedes during pre-season testing for 2021, which indicated a potential dominance of Lewis Hamilton. The Finnish driver struggled during the initial day of testing, as gearbox problems forced Bottas to enter the pits after six laps.
That changed on the second day of testing after Mercedes engineers solved the mechanical problems and allowed Valtteri Bottas to put in 58 laps on the C5 soft compound tyre. Bottas was able to record his fastest lap time of 1.30.289s, which was 0.124s faster than Alpha Tauri's Pierre Gasly, who came out second fastest on day two of testing.
However, Mercedes' problems continued after seven-time champion Lewis Hamilton struggled and eventually lost control of the rear-end and spun into the gravel. That resulted in the session being brought to a stop after stewards brought out the red flag until debris was removed from the track. At the end of day two testing, Hamilton posted a time of 1.33.339s, a full 3 seconds slower than teammate Bottas.
Red Bull Racing, the primary rivals of Mercedes AMG-Petronas, have greater consistency than their opponents from the results seen during pre-season testing. For the first time in a decade, engineering challenges are appearing for Mercedes, and that could allow rival teams, including Charles Leclerc from Scuderia Ferrari, to win the 2021 championship,
Sky Sports F1
Red Bull is already showing promise during testing, with Leclerc finishing second ahead of teammate Sergio Perez. Leclerc was also faster than 10th place finisher Fernando Alonso. While speaking with the media post-testing, Alonso addressed the car's performance stating,
"We followed the program that was planned so that is good. But we need to sit down now and analyze everything. The car did feel good, but I think we still need to understand the characteristics of the new aero package a bit better.
The two-time world champion was also questioned on his upcoming surgery and whether fans should be concerned about its impact with his performance, commenting, Alonso said,
I don't expect any issues, honestly. I will have to remove two titanium plates in the upper jaw at the end of the season."
The end of the 2020 season saw a flurry of contract negotiations in Formula One. That saw drivers like Daniel Ricciardo leaving Renault for McLaren, Carlos Sainz Jr making the move to Scuderia Ferrari, and Sebastian Vettel heading to Aston Martin.
While fans are anticipating the changes, the start to the new season hasn't produced the results Sainz Jr or Vettel were hoping to produce. On the opening day of testing, Sainz Jr spun his SF21 twice and ended the session in 13th place. Sebastian Vettel struggled to deal with mechanical gearbox failure forcing his early retirement after eight laps. The Aston Martin SF21 continued to challenge Vettel on the third day of testing, although Vettel did manage to record 56 laps allowing the team to tweak and make adjustments to the cars set up.
While the 2021 season is just weeks away, it will start later than expected after the Australian GP was postponed due to COVID restrictions. Therefore, punters hoping to place stakes on the race will have to wait until the 28th of March when Formula One roles into the Bahrain International Circuit. Similar to the cancellation of the Australian GP, Barcelona announced it would not host testing as it traditionally does for the same reasons. Therefore, due to travel restrictions, F1 was forced to move testing to Bahrain.
The good news for Mercedes and Aston Martin, Bahrain is a strategically different circuit compared to Barcelona, meaning unreliability issues for Mercedes and Aston Martin will not be as much of an issue at other tracks. However, due to Red Bull's consistency, for now, it appears that Mercedes will not dominate as it has in the last several seasons. In all three days of testing, Red Bull posted faster times than its rivals, and for Max Verstappen, that is good news.
"We managed a lot of laps, even though the track conditions were quite difficult. It was very warm with a lot of wind and we know the tyre degradation is always high around here. The main thing is the car felt nice to drive, so it's a positive start."