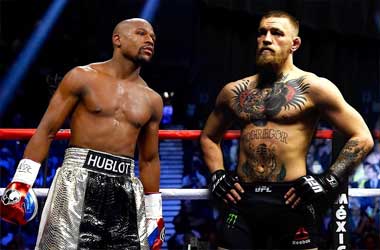 Floyd 'Money' Mayweather dominated the first press conference in California because the UFC's Conor McGregor wasn't prepared for the format of the press conference and also because his mic wasn't working – something that McGregor was annoyed it.
The 28 year old Irish fighter is the king of press conferences came back hard in Toronto, Ontario and dominated both Mayweather and his team. Due to the massive response in Toronto, the press conference had to be shifted to the Budweiser Stadium in Toronto and it was jam packed with McGregor supporters.
Floyd Mayweather made both the fans and McGregor wait for him as he turned up late and by the time the conference started, McGregor was on fire.
Former UFC Fighter Brendon Schaub who is an analyst with Showtime, the pay-per-view network for the fight stated after the press conference that it was a 10-8 round for McGregor. The Notorious one schooled Mayweather on the mike and promised to bounce his head off the canvas. McGregor also worked the crowd and got them to chant 'F@#% the Mayweather's' a number of times before turning on the General Manager of Showtime and calling him a weasel for cutting off his mic during the first press conference.
SHOWTIME Sports
Mayweather responded to McGregor's taunts by stating that he has been on top of this boxing game for the last 21 years and has a spotless 49-0 record. Things appeared to get tensed, when Mayweather took an Irish flag from the crowd and draped it over himself the way McGregor does in the UFC and this agitated McGregor who then took Mayweather's money bag and looked surprised when he found the bag pretty much empty.
Whether this part of the press conference was real or staged is up for debate. One thing is for sure that the episode with the Irish flag and the money bag will be talked about and played out on social media channels till the lead up to the August 26th fight which takes place at the T-Mobile Arena in Las Vegas, Nevada.
McGregor was supposed to sit down with the Showtime analysts after the two fighters faced-off but he stormed off stage along with his team. Mayweather did show up and stated that while McGregor clearly had the fans on his side, when they got into the boxing ring, none of those fans were going to be there to help him. Money Mayweather also promised that he has something special planned for the final press conference which takes place in London, England.