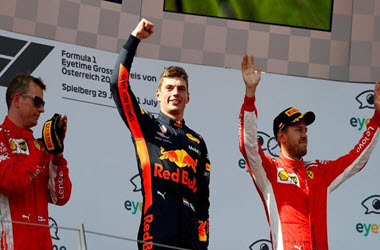 The Formula 1 season arrived in Spielberg, Austria this weekend, and with Max Verstappen showing off his skills and risky style of racing on Sunday, it saw the Dutch driver winning his first Grand Prix this year.
The win brought an end to the dominance that Mercedes has had this season and it also gave Max Verstappen, the defending winner from last season, back-to-back victories at the Austrian Grand Prix. Verstappen has to use all his skills in overtaking to get past the three leaders. That included passing Valtteri Bottas., Sebastian Vettel and finally, in the closing laps, race leader Charles Leclerc.
While Verstappen earned the checkered flag, it was a three hour wait before he learned if he would be awarded the win. This was due to Verstappen and LeClerc's wheels coming into contact when he passed him on lap 69. It was one the seasons most exciting racing moments that many have complained was lacking.
Leclerc managed to hold off Verstappen on the 68th lap but was unable to do so on the 69th when the Dutchman attempted to pass on turn 3. That resulted in their tires bumping and LeClerc being pushed off the track. The incident was, after an investigation, deemed a "racing incident" and due to its circumstances, the FIA did not associate blame to either driver. Commenting before the decision was announced, Verstappen said,
"The second time I braked a little bit deeper in the corner. From my side this is racing, it is just hard racing."
"Racing. That's what it's called. Otherwise, it's better to stay at home"#F1 #AustrianGP pic.twitter.com/ZBkorMKPDe

— Formula 1 (@F1) June 30, 2019
However, Charles Leclerc felt the second overtaking attempt made was carried out incorrectly and that due to the contact, he had to go wide. The exiting finish and Verstappen's sixth victory in F1, came after Verstappen fought his way through the field after a poor start and dropping down to 8th. Speaking about the start of the race, the Dutch driver stated,
"The start was disappointing but we never gave up and to come back like this is amazing. This is very important, also for the future and for Honda as well. I am happy that it happened today. Maybe a few doubts go away. At the moment, it is an amazing feeling."
Valtteri Bottas finished second in his Mercedes and Sebastian Vettel in the Ferrari finished third. Lewis Hamilton, who is leading the Drivers' championship finished fifth after the replacing of his front wing on lap 31. Hamilton looked strong during qualifying after posting the second fastest lap but was put down to fourth on the grid after being accessed a penalty for disrupting Kimi Raikkonen.
Max power! @Max33Verstappen takes home the win and the @DHL_Motorsports Fastest Lap Award 🚀#AustrianGP #F1 pic.twitter.com/iOXF9ewKWZ

— Formula 1 (@F1) June 30, 2019
Charles LeClerc earned his second career pole and almost led from start to finish before being denied his first F1 win by Verstappen. The season has been promising for the Monégasque driver after he led in Bahrain before experiencing issues with his engine and dropping back to third.
LeClerc's pole position and Verstappen's no. 2 position made for the youngest 1-2 driver start in Formula One. The Formula One season now heads to the U.K for the British Grand Prix where Sebastian Vettel will be hoping to defend his title, and for F1 fans, an opportunity to register with leading sportsbooks such as Bet365 and place bets on who will win this season's race.