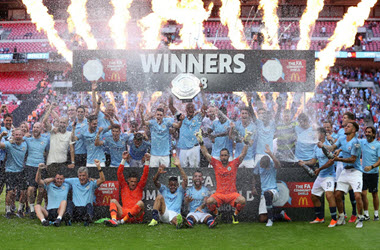 The Community Shield will take place on Sunday at Wembley Stadium and will see Manchester City and Liverpool renewing their rivalry as Sundays match is the official start to the 2019-20 season. The two have met 212 times and the record speaks for itself with Liverpool winning 104 matches, Man City 55 with the two ending in draws 53 times. That puts Man City at a disadvantage when looking at the history between the two.
Adding fuel to that, in their last twelve appearances, Man City has only won three, however one of those saw them defeating Liverpool to advance to the Premier League final, and ultimately, winning is after a decimating 6-0 win against Watford. Liverpool had their revenge in the Champions League after defeating Tottenham.
The good news for both is Sunday will see the return of several key players, who are due back after international commitments during the Africa Cup of Nations and the Copa America. The pre-season has been relatively easy on Man City, who are the defending champions.
Man City
However, for Liverpool the last four pre-season outings having resulted in a loss. While those losses haven't help generate positive results for Liverpool, their pre-season has been quite decent yet the final on Sunday will see them without Sadio Mane, who is out on rest. They also will be without Nathaniel Clyne and Xherdan Shaqiri who both are on the injured list.
Sportsbooks, such as bet365, currently are expecting Liverpool to come out on top. This is in part due to the history between the two clubs, but the current lineup expected to take to the field on Sunday. This includes Alisson Becker, Trent Alexander-Arnold, Joël Matip, Virgil Van Dijk, Jordan Henderson, Andrew Robertson, Georginio Wijnaldum; Mohamed Salah, Roberto Firmino, Divock Origi and Fabinho.
As for Man City, they are not anticipated to win but are hoping to set the stage for a solid outing this season with a won over Liverpool. They recently signed Rodri and he is expected to be a feature player for Pep Guardiola on Sunday, who is known for starting newly signed footballers. With that said, there is little doubt that Guardiola will make last minute chances, something he is known for doing. However, for now, the expected starting lineup will include Claudio Bravo, Kyle Walker, John Stones, Aymeric Laporte, Oleksandr Zinchenko; Bernardo Silva, Kevin De Bruyne, David Silva, Raheem Sterling and Leroy Sane.
There is little doubt that Sunday's final will see Liverpool and Man City duking it out and that will extend into this seasons Premier League as both vie for its title. The reality is, both teams are expected for score plenty of goals as history has shown, this is especially true when either is under pressure, and with a rivalry like theirs, pressure is exactly what both will be facing, and it will be a show fans in attendance won't soon forget.