CAF AFCON Final 2019: Senegal vs. Alegria Prediction & Odds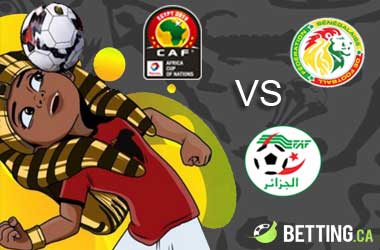 The AFCON Cup Final is set to take centre stage on the 19th of July, and it is being hailed as the year that five African continent nations regained their footings after a dismal performance at last years' World Cup.
For the first time since 1967, the tournament is being held in June, when traditionally it is held in January.
That is fuelling its audience growth due to its being the only major tournament to be running as both the Copa America, the Women's World Cup and the Gold Cup have concluded.
Bet On 2019 African Nations Cup Final with Top Sportbooks
This season has seen controversy after both Cameroon and Nigeria protested over unpaid bonuses, and it also saw the prize money being increased for the quarter, semi, runner up and champion teams.
Cameroon, the defending champions failed to advance beyond the final 16 and in response fired its head coach.
However, for Algeria and Senegal, the African Nations Cup could not have gone better. Senegal have yet to lose a match making quick world of Uganda in the best of eight, Benin in the quarter-finals and Tunisia in the semifinals. Algeria did likewise eliminating Guinea, Ivory Coast and Nigeria. The main difference between the two nations is the goal scoring, and Algeria has produced 3 to 1 over that of Senegal, and ultimately, it could be the difference that has Senegal fighting to remain in the game, and ultimately, the champion trophy.
2019 AFCON Cup Final – What to Expect and Watch for

As Soccer's AFCON Cup Final is set to kickoff on Friday, we thought it would be good to take a look at each team and who we think ultimately will win. Below we analyse each team and make our predictions.
Senegal
Odds to Win: 2.75
Senegal is a team never to be dismissed, and that was proven when they first appeared in 1965 at the Africa Cup of Nations tournament and placed fourth. During the group stage, they dominated Tanzania and Kenya and lost to Algeria. The group of 16 also ended favourably for Senegal, enough so that they managed to advance to the quarter-finals and eventually, the semifinals where they pulled off a narrow marginal win over Tunisia.
There strongest asset is Sadio Mane as to date, he has scored 32 goals for the Senegalese national team and will certainly be a threat to Algeria getting the upper hand.
Algeria
Odds to Win: 2.55
Algeria has been unstoppable at AFCON, and it is in part due to Dylan Bronn's extra time goal in their match against Tunisia. That gave them their fifth untouched sheet and saw them heading to the semifinals to face Nigeria.
Also contributing and showing his worth was Kalidou Koulibaly, a centre back from Napoli. While there is little doubt this has been a team effort, their shining star continues to be Baghdad Bounedjah as his performance with Qatari club has seen him scoring 82 goals in 88 games.
Also, one that could be a threat for Senegal is Riyad Mahrez, who at 28 has impressive speed, and based on stats alone, is one of their best. The reality though is that while Algeria has amassed a larger number of goals in the tournament, the two are pretty evenly matched, and although we believe Algeria will win, consider adding in bet on a draw, as it is very possible.
Our Verdict: Algeria to win

While the odds are pretty even going into the final between Algeria and Senegal, the overall feeling is Algeria will take the win. The main question is by how much and whether Senegal will be able to combat the stronger scoring Algerians and pull off a surprise victory. Ultimately, this is a tight one to call with neither team dominant over the over, yet, we still are putting our money on Algeria for the win.