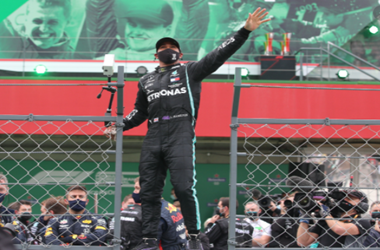 After winning his 92nd career victory at the Portuguese Grand Prix, Lewis Hamilton broke a record on Sunday held by the great Michael Schumacher that few thought possible. Hamilton who is on the cusp of winning his seventh driver's championship this season finished the race ahead of teammate Valtteri Bottas by 25.6 seconds and 34.5 seconds ahead of third place finisher, Max Verstappen.
The win, which was Hamilton's eighth of the season, put him in a commanding lead going into the five races of the season. The win all but guarantees Hamilton his seventh World Drivers' Championship and tying another record set by Michael Schumacher in 2004 when he won his seventh while driving for Ferrari.
Hamilton began his F1 career in 2007, and while he won his first drivers' champion in 2008, it wasn't until Schumacher from racing in 2013 that the British driver's career really took off. Since then, Hamilton had been the dominating force in Formula One adding five more Champions to his record.
Clearly emotional over the achievement, Hamilton spoke to the media post-race stating,
"I could only ever have dreamed of being where I am today. It's going to take some time to fully sink in. I can't find the words at the moment."
Sky Sports F1
After crossing the finishing line and sharing a moment to celebrate with the team engineers and mechanics, Hamilton took time to hug his father, Anthony, who was there to watch his son making Formula One history.
After his father filmed his son celebrating on the podium, it was time for Hamilton, Bottas and Verstappen to crack open the bottles of champagne while the crowds cheered from the sidelines. However, to make it a memorable occasion, both Bottas and Verstappen made a point to spray Hamilton in his face and over his head.
The weekend began positive for the Brit as he earned pole position, his 97th in Formula One. Considering it was a track almost no one driving were accustomed too, it gave Hamilton the advantage he needed.
However, it was not one he controlled from beginning to end after Carlos Sainz Jr led the race briefly, as did Bottas, before Hamilton retook the lead and never looked back. Other than experiencing cramping in his right leg, the race went exactly as Mercedes had hoped.
It was also a race that saw a decent turn out for fans who sat in the stands throughout the circuit. The Algarve track, which is known for having several elevation changes, caused many of the drivers to struggle with grip.
One of those was Ferrari's Charles Leclerc, who finished fourth after dealing with an under performing car. Pierre Gasly, who drivers for AlphaTauri, managed to pass Sergio Perez to earn the fifth place spot.
While Hamilton earned pole, the start didn't go as planned due to understeering problems. Teammate Bottas also had a poor start that saw him being overtaken by Verstappen only to retake it and then go on to pass Hamilton. Commenting on the start, Hamilton said,
"I had a huge oversteer, I backed off massively."
Carlos Sainz Jr has a remarkable start that saw him leap from seventh to fist while using software tires. However, on lap six, Bottas managed to get by Sainz as did Hamilton on the following lap. The race was not without incident after Perez had a close call after coming into contact with Verstappen and going sideways down the track.
Canadian Lance Stroll, who was driving his first racing after overcoming COVID, pulled a reckless stunt that caused him to go off the track on lap 19 after clipped the McLaren of Lando Norris. That results in Stroll being handed a five second penalty from race officials.
Canadian punters hoping to hedge their bets on the remaining five races still have plenty of time to place their bets. With leading sportsbooks such as Sports Interaction and Bet365 all vying for new customers sign up's, the opportunity for lucrative sign up bonuses are worth exploring.
Formula One next moves on to Imola for the Emilia Romagna Grand Prix before making stops in Istanbul for the Turkish GP, the Bahrain GP, the Sakhir GP and the final race of the season, the Abu Dhabi Grand Prix.