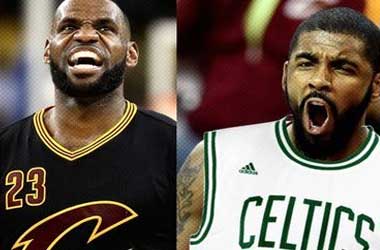 LeBron James And Kyrie Irving were two of the main reasons why the Cleveland Cavaliers have been one of the top teams in the NBA. The Cavaliers have faced the Golden State Warriors in the last three NBA Championship finals and the Cavaliers have won one NBA Championship in 2016.
Kyrie Irving caught Cleveland fans by surprise earlier this year when he made it very clear that he no longer wanted to be a part of the Cleveland Cavaliers.
Irving was apparently not very happy being in the shadow of LeBron James and wanted to move to a new franchise where he can be top dog. The Cavaliers traded him to Boston Celtics and in exchange received Isaiah Thomas, Jae Crowder and Ante Zizic.
The Boston Celtics will travel to Cleveland on Tuesday to play the Cavaliers at the Quicken Loans Arena and Kyrie Irving will play against his former teammates for the first time. Irving has played at the Quicken Loans Arena for the last six years in a Cavaliers jersey and is used to having the support of the Cleveland fans. This time around when he takes the court, he knows only too well that they will be against him and be very loud with their boos.
NBA Highlights
Irving is prepared for a hostile reception and played it down stating that he has been part of a number of high profile matches where the crowds did their best to throw him off his game. He said it was going to be a great season opener and he knew that it would be almost impossible to block out the boos and chants coming from the Cleveland fans. Tyronn Lue, coach of the Cavaliers has not sympathy for his former point guard and said Irving deserved whatever Cleveland fans dished out.
In a statement, Lue said
We've got the best fans in the world and they're going to do whatever they see best. Whatever decision they make, that's the right one. Because they've been behind us for three straight years, since I've been here, they've always made the right decisions. So whatever they decide to do, I embrace whatever they do
There have been rumours that LeBron James might not play on Tuesday and that would seriously disappoint Cleveland fans. However his teammate JR Smith said that James would not miss the season opener and stats show that James has played every opening game during the last 14 seasons.