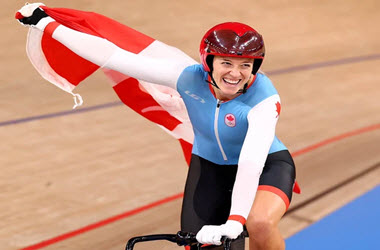 Canada's Kelsey Mitchell added one more gold medal for Canada on Sunday at the Tokyo Olympic Games after winning the women's sprint cycling competition. For an Olympian who only began cycling four years ago, it was a crowning achievement celebrated across the country.
Mitchell, who previously played soccer at a university level was working as a municipal watering truck driver, was 23 before deciding to return to competitive sports. Now, four yeas letter, she can add winning a gold medal to her resume after winning two back-to-back heats against the Ukraine's Olena Starikova.
"I had no idea where I would end up. I hadn't ridden a track bike before, I'd ridden a bike as a kid but nothing since. I had dreamt of going to the Olympics, and in the back of my mind you want to go and you want to win. So to have a gold medal, it's pretty surreal."
After deciding to return to competitive sports following her work as a municipal watering truck driver in 2017, Kelsey Mitchell registered with a program run by the Canadian Olympic Committee that is designed to help expand the number of athletes for all sports who can perform at an Olympic level.
CBC Sports
During one of the training sessions, Mitchell was noticed by Curt Harnett, a former Olympian cyclist with Cycling Canada, while wearing everyday running shows on a stationary bike and performing at peak wattage.
"If she came to us four years ago, five years ago, we would be like, we wouldn't know what to do with that talent, right?" We wouldn't have that capability to focus energy on that. Now we can do stuff like that. And that's going to start happening more and more."
Mitchell first showcased her potential in Lima, Peru during the 2019 Pan American Games when she won gold during the sprint competition. Later that year, while competing in the women's flying 200-metre sprint at the Pan American track cycling championship in Bolivia, she set a world record.
However, while she has been able to achieve a lot in her short professional cycling career, Mitchell felt there was more to achieve. After delaying the Tokyo Olympics due to the COVID-19 pandemic, Mitchell was given the extra time needed to hone her skills as a cyclist.
"I figured out how to ride my bike better and get stronger in the gym and just become more of a cyclist. It definitely benefited me and I think it benefited a few other athletes as well."
The extra time clearly paid off for Mitchell as she overpowered Ukraine's Olena Starikova in both heats, winning the first heat by 0.061 seconds and the second by 0.064 seconds.
"I was out there on the track alone and up on the podium alone but it was a team effort. Everyone was behind me. I was as ready as I could possibly be to go and perform in that race. Everyone's support was helping me push those pedals faster."
The win for Kelsey Mitchell gave Canada its 24th medal of the Tokyo Olympics and its seventh gold medal, the most ever won by Canada since the Rio de Janeiro Summer Olympics five years ago. Mitchell also became only the second Canadian woman ever to win a gold medal in an individual event. The first was Canada's following Lori-Ann Muenzer, who won gold in the sprint competition in 2004.
For Mitchell, the moment was a moment to celebrate as she has met Muenzer after being asked to join the team by Cycling Canada. Had it not been for Mitchell's aunt suggesting she join in on a who spin class taught by Muenzer, the two likely would not have met.
"I went up and introduced myself and I said I want to try track cycling and I want to go to the Olympics, and she was probably like who the hell is this girl? But she was super nice and was like 'oh, that's awesome. It was a long time ago. It feels like it was a really long time ago but I guess it was only four years."
Now, Kelsey Mitchell can ponder her future as an Olympian and decide whether she will compete at the 2024 Summer Olympic Games. For sports punters who favour the Olympics, keeping an eye on how Mitchell performs at the 2023 Pan American Games will be a key indicator.