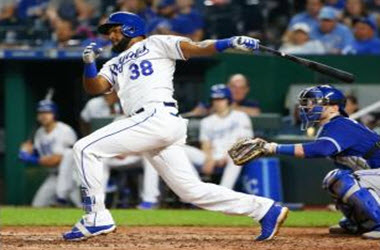 The weather in Toronto was cold and rainy as the Kansas City Royals took to the field in game four of their series against the Toronto Blue Jays. When all was said and done, it was the Royals that came out on top to beat Toronto 6-2 and tie the series with two wins each.
After a rain delay that saw torrential rains and flooding in many parts of Toronto, Rosell Herrera added three hits to his stats and Lucas Duda had a home run. The combination of Kevin McCarthy, Brian Flynn, Wily Peralta and Brian Flynn proved too much for the  Toronto Blue Jays. The Royals pitchers let only three hits over five innings preventing Toronto from scoring.
Ned Yost, coach for Kansas, said while speaking about the difficult circumstances with yesterday's weather said,
"Difficult circumstances, really. Long wait, waiting out the rain. We weren't sure we were going to play. It just kept building up, building up and then it started dying down. I wasn't sure what was going to happen. The bullpen did a good job of holding the fort and a good job by our hitters with four two-out hits to give us the lead."
The Royals went into the lead early in the fourth inning after Jorge Bonifacio hit a triple. Jays pitcher, Sam Gaviglio once again was relieved before making it through five innings, the thirteenth time this year. While on the mound, he allowed eight hits and five runs.
Gaviglio seemed to unravel after a five-minute delay in the fourth inning due to a balk call. An attempted pickoff pitch slipped from his hand, and that saw the umpires huddling and awarding Odubel Herrera second base. The delay was extended due to video reply adding to Gaviglio's frustration.
Sleepless in ̶S̶e̶a̶t̶t̶l̶e̶ Kansas City.

RECAP: https://t.co/4rdfwexlZp pic.twitter.com/PdcfHlAu16

— Toronto Blue Jays (@BlueJays) August 17, 2018
Once the game got underway again, Gaviglio has three batters produce hits. Commenting on the delay and balk, Gaviglio said,
"I thought it was a balk, from my point of view. I just kind of got a little up in the zone, didn't make very good pitches."
John Gibbons, manager of the Jays stated that he feels that Gaviglio struggles with elevated pitches adding that,
"He's been getting hit around a little bit lately, primarily because he gets a lot of pitches up in the zone," Gibbons said. "That's not his style. He can't do that. "
Catcher Danny Jansen sacrificed a fly ball during the second inning that saw Teoscar Hernandez score Toronto's first of two runs. The other run was scored by Justin Smoak who was brought home after a single by Kendrys Morales.
Punters watching the action unfold in Toronto had to over two hours while rain hammered the city. The delay and subsequent balk delay are factors that sports betting sites such as bet365 consider when setting odds. The Jays are sitting near the bottom of the A.L East and are not expected to be contenders this year in the playoffs. Those interested in placing bets to rally behind the embattled club will find generous baseball bonus betting opportunities when they register at bet365 or any other of the recommended betting.ca sportsbooks. Register today and take advantage of the multiple generous offers.