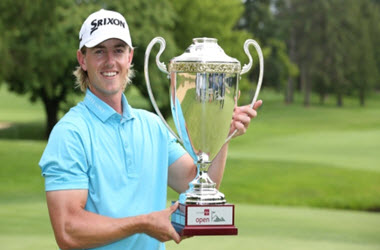 James Allenby started the final round at the Canada Life Open with a two stroke lead, but it was Jake Knapp, who was two shots behind that came away with the win after overcoming a five stroke deficit at the Point Grey Golf & Country Club to claim his first ever Mackenzie Tour title.
At the end of the final round Jake Knapp finished with a 267, 21 under par and in doing so, surpassed the previous four day total by Lee McCoy by one stroke and set a new record. Commenting on the achievement and his first title, Knapp said,
"It probably hasn't sunk in quite yet. I got to Facetime my parents for a minute and my brother, but I think when I talk to them about what actually happened, it'll sink in a bit more for sure."
Knapp has suffered in recent years with a variety of injuries that saw his last two seasons being long and challenging. However, Knapp gave credit to his team and family for helping him return to competition. Knapp added,
"I love my parents, I can't thank them enough for everything they do for me, They put up with me 24/7 and help me with travel and everything else. For them to stick with me through it all means the world and I can't thank them and my team and my family enough."
From having a beer with @blemieux22 the day before leaving for (and eventually dominating) Q-School to his own version of a "playoff beard", get to know our first champion of the year, @jknapp58: https://t.co/HsvH4ooeXU

— Mackenzie Tour (@PGATOURCanada) May 28, 2019
Ranked 57th, Jake Knapp was in contention from beginning to end after hitting a 67 in the opening round. He did lose some ground in the third round on Saturday finishing the day with a 70 but rallied in the final round. Knapp, who is currently staying with a host family commented that,
"I'm staying with a host family, and Joe Harrison is there too, and we were talking about what it might take, I said 20 or 21-under. I knew that last group would be playing in front of a lot of people like my group was yesterday, so I figured they'd be dealing with a little bit of the same. I sent a text to my coach this morning like, 'what does a guy have to do to shoot 8 or 9-under today". "He said, plain and simple, 'go shoot 4-under on the front and shoot 4-under on the back.'"
After his coach's advice, it seems Knapp listened and going without bogeys in the first nine holes, he regained his composure and shot four birdies, then seeing he was still in the middle of the pack, hit three more before adding one last birdie on the 18th. It was enough to give him the lead and title. Speaking about the field, Knapp said,
"It means a lot, there's so many good players out here. So many guys are going from the Mackenzie Tour to the Web.com Tour and to the PGA TOUR, it's obvious that this is a proving ground to get to that next level."
The win gives Knapp a head start to the Order of Merit, but it also gives him automatic entry into June's RBC Canadian Open that takes place at the Hamilton Golf & Country Club on the 3rd to 9th. Golf punters wanting to prepare for the RBC Open will find lucrative promotions being offered when registering with the likes of Sports Interaction, a favourite among Canadian punters that is offering newly registered punters up to $125 in signup bonuses.
Knapp, while speaking to the media post-tournament spoke about his first PGA event since 2015 saying,
"I haven't played any PGA TOUR events since 2015, I tried not to think about that today, but it means a lot and we'll see what I can do against the best players in the world. Ideally, I'd go out there and play well and let the chips fall where they do, but it's just good to go test your game at that level for sure."