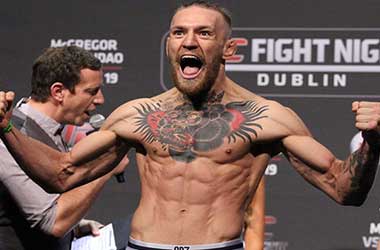 Conor McGregor has made his living as a professional fighter but it appears he might have bit off a little more than he can chew by getting into a bar fight in Dublin on Sunday night. McGregor is reported to have punched an individual who is a close associate of Irish mobster Graham "The Wig" Whelan.
There is no official police complaint of the incident nor has the bar released any official statement. However those present at the bar, took to social media to point out that McGregor had come in targeting a younger man but ended up punching a middle-aged man twice in his face.
This man is reported to be the father of Whelan, who is a senior member of the Kinahan crime cartel. UFC President Dana White said he did not really believe any such altercation occurred because if it really happened, the press would have been making a lot more noise.
The Irish mob has a reputation of handling things its own way and not getting the authorities involved. Former UFC fighter and Showtime commentator Brendan Schaub was recently on the Joe Rogan podcast (30mins into the video below) and said that his internal sources told him that the Irish Mob had put out a €900,000 bounty on Conor McGregor.
PowerfulJRE
What the press did confirm earlier this week was that Conor McGregor went to a Dublin court on Thursday not for his alleged bar altercation but for a speeding ticket. McGregor was ordered by the court to pay a fine of €400. McGregor is reported to have sped away from the court in his BMW, shouting "Come And Get Me" which could his way of responding to the hit put out by the Irish Mob.
Senior Irish crime reporter Paul Williams mentioned on his radio program that the police in Ireland are taking the mob threat seriously and will be reaching out to McGregor to warn him that the threat is indeed real.
In his program, Williams said
I have to say about this, and I'm wearing my old, veteran crime reporter hat. Conor McGregor is in a very dangerous place at the moment. He has come into conflict through probably no fault of his own, with a group of very, very dangerous people who are tied up with the Kinahans
Some of McGregor's fans who are concerned for his safety have urged him to leave Ireland and let things cool over.