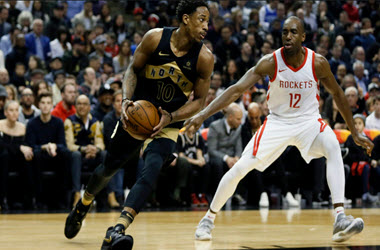 Raptors player Dwane Casey gave Kyle Lowry credit for getting things moving offensive wise during Friday night's game against the Houston Rockets.
Lowry was on point last night scoring thirteen points during the first quarter alone, and that helped bring an end to Houston's seventeen game winning streak as the Raptors ended the night 108-105 at the Air Canada Centre.
The Raptors took the lead early in the game thanks to Kyle Lowry. Commenting on the 32-16 lead and Lowry's contribution, Dwayne Casey said,
"He shot the ball well. We needed our three-point shooting to pick up. I think once other guys saw him shoot the ball, they got rolling, shot it with conviction."
The Raptors had a plan of attack and stuck with it. Lowry sunk seven of nine three-point shots and assisted with six more, DeMar DeRozan scored twenty-three points and had seven rebounds, while Jonas Valanciunas scored fourteen points and ten rebounds.
Houston's Eric Gordon nailed a three-pointer with only 8 seconds remaining to put the Rockets within one point of the lead. However, Valanciunas was quick to respond during a free throw to put Toronto ahead 108-105
Last night's win puts Toronto's winning streak to seven and a season high for the team. Currently, they are 48-17 and have a lead of 2.5 games over the Celtics putting them at the top of the standings for the Eastern Conference.
Toronto Raptors
DeRozan commented on Houston's play saying,
""Houston has been playing exceptionally well of late so for us to come in here and protect home court was big."
DeRozan continued stating that,
"It's always great when you get to compete against a great team in the NBA and come out with the victory. Tonight was fun, especially on our home court."
Houston's James Harden played one of his best games this season scoring forty points, and both Eric Gordon and Chris Paul had a fourteen point night.
For Harden, he felt the team missed many good opportunities stating,
"We had a lot of opportunities we just didn't convert on them. No matter who you play, you can't get down 20 points on the road and expect it not to be challenging to get back."
The third quarter was the hottest for the Rockets as they outscored Toronto 32-25 and reduced the Raptors lead to 83-75. Harden managed to score fourteen points in the third and Gordon scored six to give Houston a sixty-one percent average for the quarter.
The Raptors Kyle Lowry scored sixteen and DeRozan fourteen going into the break. The two collectively scored six of nine three-pointers in the first half, and Malcolm Miller added another seven points in only six minutes of first-half play.
Toronto Raptors
Last night's game saw DeRozan score a milestone of 13,000 points in his career in the NBA. This is no small feat considering he is the first to do so since the 2009/2010 season. Toronto managed to hold the Rockets at bay during the first half in what saw Houston have its worst first half of the season.
Said Lowry,
"It was our game plan to keep them inside the three. We know they're going to shoot 'em and get 'em up, but we held them inside the three. We can't take everything away from them so we tried to take away one of their strengths."
As the season continues, basketball sportsbetting sites will be watching the Raptors closely as they continue with another strong season. Hopes are high this year will see the Raptors winning the NBA Playoffs, and for punters, now is a good time to get in your bets and secure the best odds possible.