Hockey Canada Bans All Players From 2018 WJC From The National Team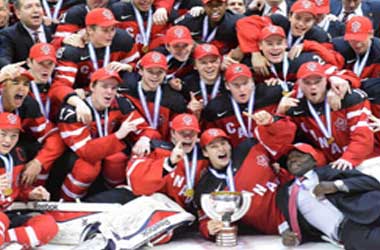 Summary
No players from 2018 World Juniors can play in the 2023 IIHF Men's World Championship
Hockey Canada has imposed a ban until an investigation into the 2018 World Juniors team is completed
The 2023 IIHF Men's World Championship takes place from May 12 to 28
Hockey Canada, the governing body for hockey in Canada has confirmed that none of the players who were part of the 2018 World Juniors (pictured) will be eligible for selection for the 2023 IIHF Men's World Championship.
The 2023 IIHF Men's World Championship is set to take place in Finland and will run from May 12 to 28.
2018 World Juniors Team Under Investigation
Allegations were made against the 2018 World Juniors team that as many as eight players had sexually assaulted a woman in London. The woman filed a complaint but London police closed the case without pressing any charges.
Hockey Canada had also initiated an investigation led by law firm Henein Hutchison Robitaille LLP but the investigation was closed once the police in London closed the case.
The woman would later file a lawsuit against Hockey Canada and the Canadian Hockey League (CHL) along with 8 players in the CHL whose names were not disclosed. The lawsuit was settled by Hockey Canada for $3.55 million.
When news media made this incident public, Hockey Canada took a lot of flak for trying to cover up the issue with a settlement without address the seriousness of the issue that Canadian hockey players were getting away with sexual misconduct.
Ban Will Remain Until Investigation Is Completed
The National Hockey League (NHL) has also launched its own investigation into the incident but is yet to disclose its findings to the public. The London police department has also reopened its investigation into the incident and the investigation is currently on-going.
Hockey Canada has confirmed that none of the players from the successful 2018 World Juniors team will be allowed to represent the national team until the investigation is completed. This decision to not allow any members of the 2018 World Juniors team to represent Canada was made after the public and media put pressure on Hockey Canada to take serious action.
As a result, the CEO of Hockey Canada stepped down and the entire board resigned in Dec 2022 and was replaced by an interim board who will serve for 12 months.