Hockey Canada Puts Together Impressive Management Team Ahead Of IIHF WC 2023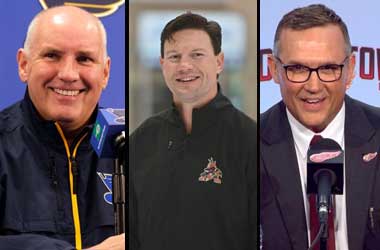 Summary
Hockey Canada signs Doug Armstrong as new GM for World Championships
Steve Yzerman, Scott Salmond and Steve Yzerman also part of new management team
Peter Anholt hired as U-18 GM for World Junior Hockey Championship
Hockey Canada has made some big appointments to its management team for the upcoming 2023 IIHF World Championship and the 2024 World Junior Hockey Championship.
These are the key individuals who have been appointed to senior management positions by Hockey Canada which needs boosting after the entire board stepped down in October 2022.
Doug Armstrong Appointed As New General Manager
The 2023 IIHF World Championship is set to take place in Finland and Latvia from 12 to 28 May 2023 and a total of 16 teams will take part. Team Canada will go in as a heavy betting favorite with Doug Armstrong as the new General Manager.
Hockey Canada announced that it signed Armstrong who has served as GM for the St Louis Blues for over a decade. Armstrong helped the Blues win the Stanley Cup in 2019.  
Armstrong has a stellar reputation on the Canadian hockey circuit having been a part of Team Canada's management when the team went on to win Olympic gold during the 2010 and 2014. He was also the GM for Team Canada when they went on to win the World Cup of Hockey in 2016.
Armstrong will be supported by an experienced bunch of management personnel. Hockey Canada confirmed that they have also signed Steve Yzerman as associate GM, while Scott Salmond has been appointed as Vice President of Hockey Operations and Shane Doan will act as the assistant GM.
These appointments bring a wealth of experience to Team Canada as Doan was the GM for Team Canada during the Spengler Cup in 2022. Doan has represented Team Canada as a player at 6 World Championships and brought home 3 gold medals and 2 silver medals.
Yzerman has acted as the executive director for the men's hockey team when Team Canada won Olympic Gold in 2010 and 2014.
Peter Anholt Hired As U-18 GM  
Hockey Canada also confirmed that they had signed Peter Anholt to be the new GM for the U-18 team during the 2024 World Junior Hockey Championship which takes place in Goteborg, Sweden.
Anholt will look to lead Team Canada to their 3rd consecutive World Junior Hockey Championship and takes over from James Boyd who is the GM for Ottawa 67′s.