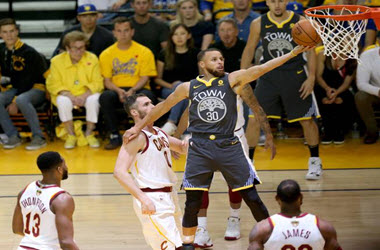 Facing LeBron James, many thought the Golden State Warriors had an uphill battle. However, the Warriors have their own battle-hardened man on the court, and for Stephen Curry, he brought out the big guns last night as the Warriors shattered the Cavaliers 122-103.
James and Curry battled all night going back and forth with big shots and the moves that go with them. The Warriors, for their part, outshined the Cav's setting a new NBA finals record scoring 9 three-pointers and forcing the Cleveland Cavaliers to a dismal finish.
Stephen Curry was delighted.
"Pretty special night, and hopefully some more special things happen and we get two more wins."
Kevin Durant had a stellar night scoring 26 points, had seven assists and nine rebounds, all while dealing with the job of defending against LeBron James. Dealing with a sore leg, Klay Thompson managed a 20 point game to help put the Warriors to within two wins of winning back-to-back championships.
LeBron once again came out earning nine rebounds, 13 assists and scoring another 51 point game. Kevin Love added 22 points to his post-season total, and with James, Love is hopeful they will find the momentum needed as Game 3 hits Cleveland on Wednesday.
NBA
Commenting post-game, James said,
"We want to continue to be uncomfortable. Just because we're going home doesn't mean we can relax."
Stephen Curry made some big shots included one 3-pointer while off-balance as he sent the ball over the head of Kevin Love and fell into the crowd while celebrating. Impressed by Curry's performance, Draymond Green said,
"He's a big shot taker, big shot maker. Tough shot taker, tough shot maker."
Klay Thompson was equally impressed by the bold move with seconds remaining on the clock and the win already in hand saying,
"About seven seconds on the clock he just kept going backward, I don't know why, but he just threw it up and I didn't think it had any chance of going in. That was kind of like a dagger shot. It just gave us all the momentum back."
Cleveland was able to shorten the gap to within 7 points last night half-way through the fourth quarter but was unable to match the determination of Stephen Curry who responded and increased the deficit further.
Tensions ran high in the third as James felt the officials should have made a call against Curry who he felt should have been fouled for going underneath the star preventing him from landing inbounds after catching a pass from Kevin Love. The result saw an angry Tyronn Lue on the court and receiving a technical.
After LeBron James's performance in the opener of the series, Golden State said they would make things harder to the Cav's star forward, and they achieved that well last night with James going over 12 minutes without scoring.
While some will argue that was the result of James having a bloodshot eye that is on medication for, others believe the Warriors have found their mojo. Game 1 saw Golden State defeat the Cavaliers with a 10 point difference in overtime, and last night's win increased the gap to 19 points.
Commenting on Golden State, LeBron James said,
"They're a dangerous ballclub no matter what. It starts with those four guys, those four All-Stars. Everybody else just does their job and they don't miss a beat when they put someone in or they take someone out."
One thing is certain, with Game 3 set to get underway on Wednesday night, the Cleveland Cavaliers will need to regroup and find the magic needed to break the Warriors and get back into this series – that or call it a day.